ExxonMobil hires SBM Offshore to build FPSO for sixth oil development off Guyana
Dutch FPSO operator SBM Offshore has gotten its hands on a contract to perform front end engineering and design (FEED) for an FPSO vessel, which is destined to work on ExxonMobil's sixth deepwater oil development project on the Stabroek block offshore Guyana. This will be the fifth FPSO built by the Dutch player for operations in Guyana.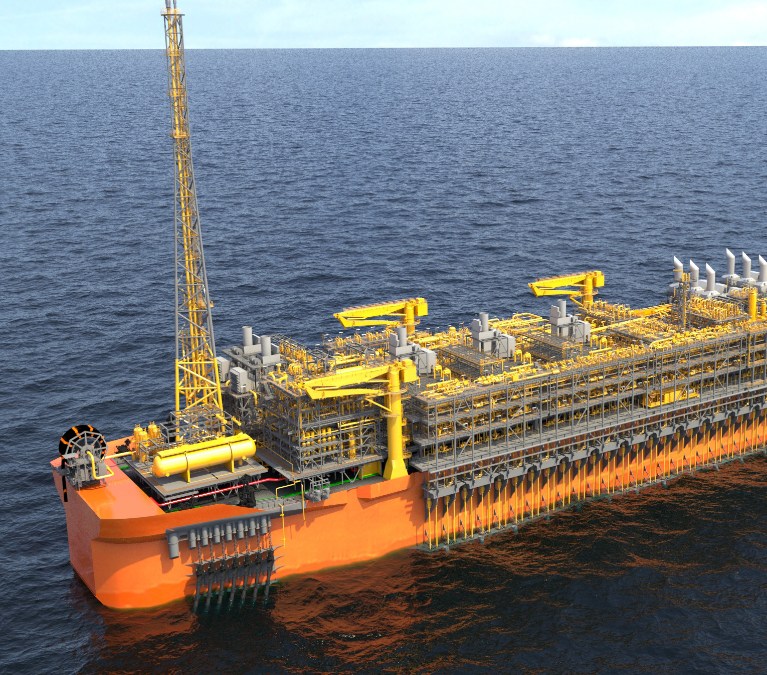 The FEED contract award triggers the initial release of funds by ExxonMobil Guyana Limited, a subsidiary of the U.S.-headquartered ExxonMobil, to start FEED activities and secures a Fast4Ward hull for the execution of the Whiptail development project in Guyana, SBM Offshore explained on Friday, October 13, 2023.
Following FEED and subject to government approvals of the development plan in Guyana, project sanctioning, including the final investment decision by ExxonMobil to release the second phase of work, SBM Offshore will design and construct the FPSO using its Fast4Ward program and allocate its seventh new build, multi-purpose floater hull, combined with several standardized topsides modules.
Bruno Chabas, SBM Offshore's Chief Executive Officer, commented: "We are proud to announce ExxonMobil Guyana has awarded the contracts for a fifth FPSO from SBM Offshore in Guyana. This project demonstrates once more the value that our industry-leading Fast4Ward program brings to our clients and other stakeholders while delivering carbon-efficient energy to the world."
The FPSO's ownership is expected to be transferred to ExxonMobil at the end of the construction period and before the start of operations in Guyana. The construction costs will be partially funded by senior loans which will be repaid at the time of the vessel's transfer to the oil major.
The Durch player will also install the FPSO, which will be spread-moored in a water depth of about 1,630 meters and will be able to store around 2 million barrels of crude oil. The FPSO will be designed to produce 250,000 barrels of oil per day. It will have an associated gas treatment capacity of 540 million cubic feet per day and a water injection capacity of 300,000 barrels per day.
Furthermore, SBM Offshore explains that it will operate the FPSO through its integrated operations and maintenance model, leveraging "key learnings and the operational excellence" of the units currently deployed in Guyana. ExxonMobil's plans for the project include third-party oil tankers that will be scheduled to offload the oil from the FPSO, making the oil available for export to the international market. The FPSO will also process, dehydrate, compress, and reinject associated gas produced from the reservoir.
For the latest FPSO, SBM Offshore will be building on the experience to date on the Liza Destiny, Liza Unity, Prosperity, and One Guyana FPSOs while continuing to commit to local content development in Guyana by sourcing fabrication scope locally and integrating Guyanese engineers into the execution and operational teams.
What will Whiptail entail?
The Whiptail development project will develop the Whiptail, Pinktail, and Tilapia fields, along with potential additional resources, if determined to be feasible and economically viable. This project is located in the southeastern portion of the Stabroek block, approximately 183 km from Georgetown and amid previous Stabroek projects on Guyana's Continental Shelf.
The current development plans for the project include drilling via drillships to produce oil from approximately 40 – 65 production and injection wells. The production is expected to begin between 4Q 2027 and 2Q 2028 with an expected field life of at least twenty years.
According to ExxonMobil, the project will be designed to add up to 275,000 barrels of oil a day to existing daily production volumes in Guyana with the associated additional revenues to the government of Guyana, while continuing a steady expansion of opportunities for Guyanese to participate in the petroleum industry.
The operator highlights that the Whiptail project has been designed for no routine flaring of associated gas, instead using the gas for fuel, or reinjecting it into reservoirs to improve oil recovery. This design is consistent with ExxonMobil's plans to align with the World Bank's initiative to eliminate routine flaring of associated gas by 2030.
"However, it is important to recognize that some flaring is necessary or inevitable to maintain safe and reliable oil and gas operations. Such flaring will for example include well testing, background operational and safety flaring, planned maintenance activities, and intermittent unplanned events associated with process upsets or temporary infrastructure (equipment) malfunction. These gas streams are not the focus of the World Bank's Zero Routine Flaring (ZRF) by 2030 Initiative, which concentrates on other types of flaring," elaborated the oil major.
The Stabroek block covers 6.6 million acres (26,800 square kilometers) and is operated by ExxonMobil's affiliate Esso Exploration and Production Guyana with a 45% interest. The company's partners in the block are Hess Guyana Exploration (30%) and CNOOC Petroleum Guyana (25%).
Based on ExxonMobil's plans, six FPSOs with a gross production capacity of more than 1.2 million barrels of oil per day are expected to be online on the Stabroek block by the end of 2027, with the potential for up to ten FPSOs to develop the estimated gross discovered recoverable resources of more than 11 billion barrels of oil equivalent.