ExxonMobil's Hebron under the spotlight again after near miss incident
Oil major ExxonMobil has reported a high potential near miss incident on the Hebron platform located offshore Newfoundland, Canada.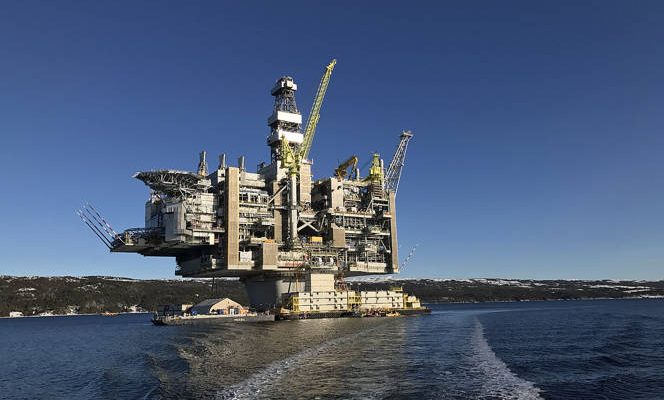 ---
Canada's offshore regulator, the Canada-Newfoundland and Labrador Offshore Petroleum Board (C-NLOPB), informed on the incident at Exxon's Hebron platform on Thursday, November 29.
According to the regulator, on November 27, 2018, a cement head approximately one meter in height, was secured in the vertical position in a container basket in preparation for loading. While in the process of installing a lifting cap onto the cement head, the cement head came loose from the securing strap and tipped onto its side inside the container basket.
There were two people in the basket at the time of the incident. Ongoing work was immediately stopped, and the area was secured. Although there were no injuries associated with this incident, it had the potential for a major injury as it could have resulted in a fracture, the regulator said.
The area was immediately cleared of all personnel and secured before resuming operations. The C-NLOPB is continuing to monitor ExxonMobil's investigation of the incident.
Recent shutdown 
Two weeks ago production from the Hebron platform was shut down due to adverse weather conditions. On November 20 C-NLOPB said that operators offshore Canada, including Exxon and its Hebron platform, were checking their offshore facilities for damage before resuming operations.
As there were no storm impacts on Hebron, Exxon proceeded with its plan to start up the platform by slowly introducing hydrocarbons to the facility, but the company still had to inspect the offshore loading system before offloading petroleum from the facility.
On November 23 the offshore regulator informed that Hebron had resumed production.
Discovered in 1980, the Hebron field is estimated to contain more than 700 million barrels of recoverable resources. The Hebron platform consists of a stand-alone gravity-based structure, which supports an integrated topsides deck that includes living quarters and drilling and production facilities. The platform has a storage capacity of 1.2 million barrels of oil. The production started a year ago, in November 2017.
Offshore Energy Today Staff
Related news
List of related news articles