First LNG cargo delivered by PGNiG-chartered vessel
Polish oil and gas player PGNiG has marked the first LNG cargo delivery made on a vessel chartered by the PGNiG Group and the first shipment it has received from Venture Global LNG.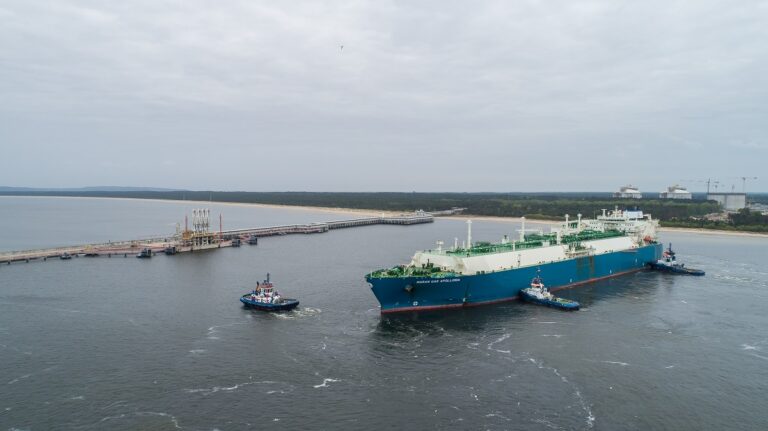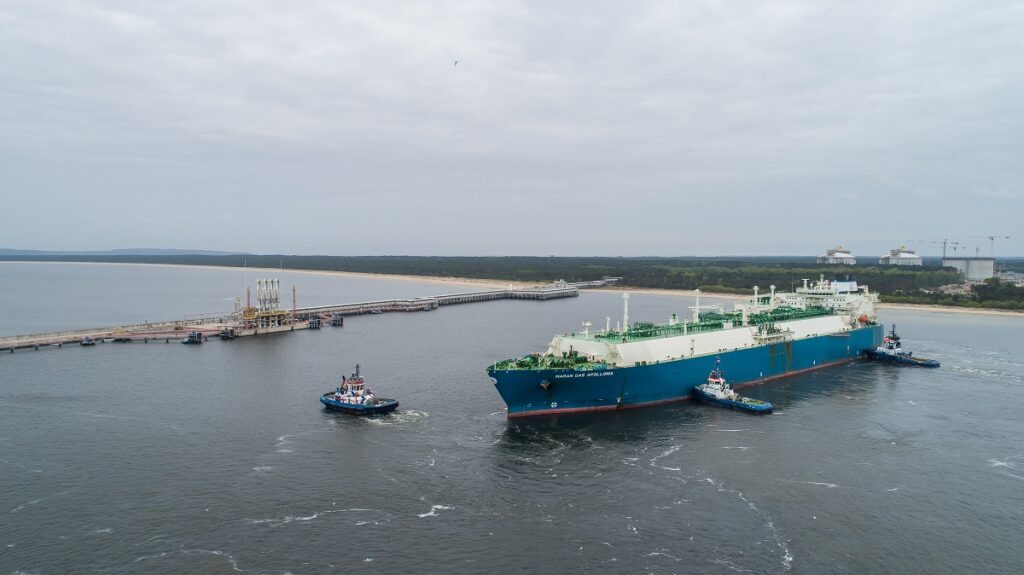 The LNG carrier Maran Gas Apollonia brought the cargo of over 65,000 tonnes of LNG at the President Lech Kaczyński LNG Terminal in Świnoujście. The vessel picked up cargo at Venture Global's Calcasieu Pass liquefaction terminal in Louisiana.
PGNiG says it will, starting next year, begin receiving 1.5 million tonnes of LNG per year from the Calcasieu Pass terminal under a long-term contract. PGNiG also has a long-term deal with Venture Global to receive 4 million tonnes per year from the Plaquemines liquefaction terminal in Louisiana.
"This is the first time the LNG cargo has been delivered by a vessel chartered by the PGNiG Group opening a new chapter in the Group's operations on the global LNG market. Until now, we have only purchased LNG cargoes with transport provided. Now we also are able to purchase gas directly from liquefaction terminals under free-on-board contracts. This definitely broadens our possibilities of securing liquefied natural gas volumes", stressed Iwona Waksmundzka-Olejniczak, president of the management board of PGNiG.
"The last year on the European gas market has clearly demonstrated the importance of access to diversified and reliable sources of gas. LNG offers such access, hence the huge growth of interest in liquefied natural gas among European companies," she added.
"Venture Global is proud to celebrate this historic milestone with our partner and largest customer, PGNiG", said Mike Sabel, CEO of Venture Global LNG. "These long-term FOB contracts will make PGNiG not only a consumer but also a regional leader in LNG supply and trading."
Both long-term contracts with Venture Global are based on FOB formula. In order to receive gas under these contracts, PGNiG has started to develop its own fleet of LNG tankers. It has chartered eight LNGCs, each with a capacity of 174,000 tonnes, that will be built exclusively for PGNiG.
The first two vessels will enter into service next year, the next two in 2024, and the remaining four in 2025.
Due to the recent intensification of LNG imports by PGNiG, the company has decided to charter three vessels already this year, two of them in the first half of 2022. One of them is Maran Gas Apollonia, owned by Maran Gas Maritime, a unit of the Angelicoussis Group. Maran Gas Maritime will also be the owner of two of the eight gas carriers being built for PGNiG.
"This "first" comes soon after PGNiG and Maran Gas entered into long-term charter contracts for two LNGCs in support of Poland's efforts to diversify and strengthen its LNG supply chain. In the face of accelerated trade growth, within a world that is significantly more fragmented than a few months ago and with rising environmental challenges, such a partnership between two strong European companies is more relevant than ever", Sveinung J. S. Stohle, Angelicoussis Group deputy CEO.
Moreover, this LNG cargo is the 17th LNG delivery received by PGNiG at the Świnoujście in 2022 and the 165th since the beginning of the terminal's operation. The Świnoujście terminal has a regasification capacity of 6.2 bcm of gas annually, compared to 5 bcm previously. Thanks to further investments, the regasification capacity of the terminal will increase to 8.3 bcm of gas per year in 2024. PGNiG has reserved 100 per cent of the regasification capacity of the installation.

Earlier this month, PGNiG took delivery of the first LNG shipment outside Poland, which was delivered to the LNG terminal in Klaipeda, Lithuania.