First steel cut for North Sea-bound unmanned gas production platform – gallery
Norwegian oil and gas player Aker BP has celebrated the start of the construction phase for a platform, which is destined to be deployed at a recently sanctioned development in the North Sea offshore Norway. The unmanned gas production platform is said to be the first installation of this type on the Norwegian Continental Shelf (NCS).
The first steel cut for the Munin platform was celebrated by Aker BP and Aibel in Thailand on Thursday, November 2, 2023. According to the Norwegian oil and gas firm, Thai monks blessed the steel in a formal ceremony, before construction of the unmanned gas production platform got underway. The first steel was cut at Aibel's subcontractor, Deeline. The fabrication shop delivers steel structures which are assembled into larger sections and modules at Aibel Thailand in Laem Chabang.
Peter Kupka, Project director for fixed facilities, commented: "After many years of planning and engineering, construction of Munin is now starting according to plan. The Munin team has made an incredible effort to get the steel cutting started. It was a great experience to take part in the celebration today, which also marks that construction activity is underway on all platform deliveries in Yggdrasil. This is important for the overall progress in the development."
This steel-cutting ceremony for the platform comes nearly a year after Aker BP and its partners – Equinor and PGNiG Upstream Norway – made a final investment decision to develop the Yggdrasil area in December 2022 and submitted plans for development and operation (PDOs) to the Norwegian Ministry of Petroleum and Energy.
After the Storting gave its stamp of approval for the Yggdrasil and Valhall PWP-Fenris development plans on June 5, 2023, the Norwegian Ministry of Petroleum and Energy approved the developments on June 28, 2023. These two offshore development projects entered the construction phase on September 4, 2023, when the first steel plates were cut for Hugin A and Valhall PWP at Aker Solutions' Stord yard.
The total investments for the Yggdrasil project are estimated at NOK 115 billion or over $10.3 billion. Yggdrasil, situated northwest of Stavanger, is the next major field development on the Norwegian shelf with gross resources of more than 700 million barrels of oil equivalent, and it will be remotely operated from an integrated operations center and control room onshore in Stavanger.
The Munin production platform, which is part of the development, will be designed from the start for crewless operation with neither helicopter deck nor living quarters. The platform's topside will be provided by Aibel, which will deliver engineering, procurement, construction, assembly, and commissioning while MAN is in charge of delivering two compressor units as well as a comprehensive digital solution designed to fulfill the requirements for remote operation.
Erling Landsværk, project manager in Aibel, remarked: "Through Munin, Aibel is contributing set a new bar for offshore developments. Munin is being built without a helicopter deck, living quarters and lifeboats. Access and visits will be accomplished through support vessels. Our priorities have been safety incorporated in the design, minimal maintenance requirements, and streamlining of platform systems and functions to avoid manual operations. Starting construction on a new project is always exciting. Now we'll get to see the physical result of several years of work."
Furthermore, the Munin topsides weigh in at more than 8,000 tonnes, with a size of 62 by 42 meters and 35 meters tall. The contract is valued at NOK 7 billion or over $626 million for Aibel and will provide work for around 2,000 people distributed between Asker, Haugesund, and Thailand. The yard in Thailand will deliver the utility module, stair tower, flare boom, and deck sections for the process module while assembly and outfitting will take place in Haugesund. The first dispatch is slated to set sail for Norway in less than a year. 
Håkon Helgå, Aker BP's Munin project manager, explained: "Aibel has delivered high-quality new-build projects in this business model over the course of many years. The company is a new strategic partner for us when it comes to field development. We've had an efficient start-up for the execution phase of the project. As we move forward, the most important thing will be to deliver quality in every part of the project to ensure that we stay on schedule and deliver a safe project."
Extensive infrastructure is planned in the Yggdrasil area – consisting of the Hugin, Fulla, and Munin license groups – including three platforms, power from shore, and a subsea development with a total of nine subsea templates, pipelines, and umbilicals. In addition, 55 wells are planned in the area. The entire Yggdrasil area will be remote-controlled from an onshore integrated operations center and control room in Stavanger.
"Yggdrasil will bring enormous ripple effects and value creation. The Norwegian share of deliveries is high, and we're talking about tens of thousands of full-time equivalents in Norway in the years to come. The project will also help secure jobs and develop companies in the shipyard and supplier sectors across the world. Today's ceremony is a very good example of the huge international scope of Yggdrasil," concluded Kupka.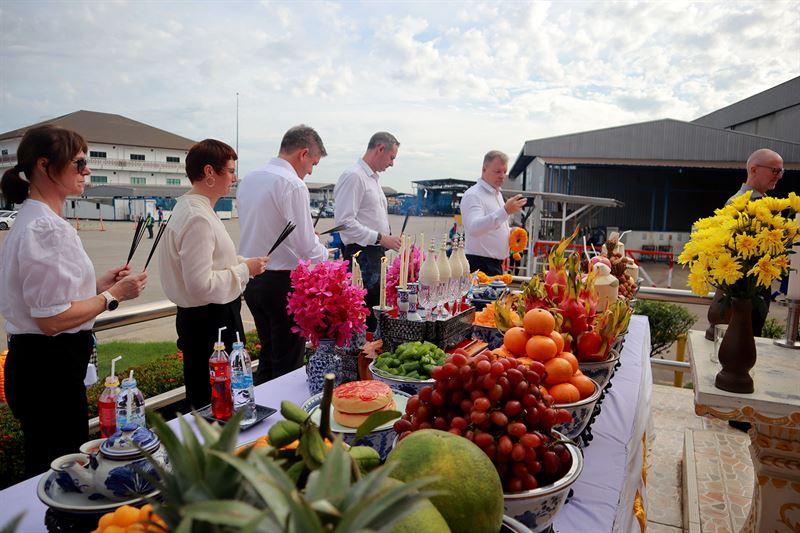 The project is expected to be completed in 2027 and the finished Munin platform will be one of three new platforms in the Yggrasil area, located between Alvheim and Oseberg in the North Sea. The area has many fields that contain around 700 million barrels of oil equivalents. Aker BP is the operator, with Equinor and PgNiG Upstream Norway as license partners.
The start-up of construction for another one of these recently greenlighted projects, which is known as the Skarv Satellite Project (SSP), was celebrated on Tuesday, 29 August 2023, alongside a number of Aker BP's employees and partners in the Subsea Alliance (Aker Solutions and Subsea 7), and the Modification Alliance (Aker BP and Aker Solutions).