Gallery: Allseas' giant vessel removes two Morecambe Bay jackets in less than two days
Offshore contractor Allseas has completed a removal campaign for two jackets, which were part of Spirit Energy's Morecambe Bay development in the East Irish Sea. The work was carried out using Allseas' Pioneering Spirit heavy lift vessel.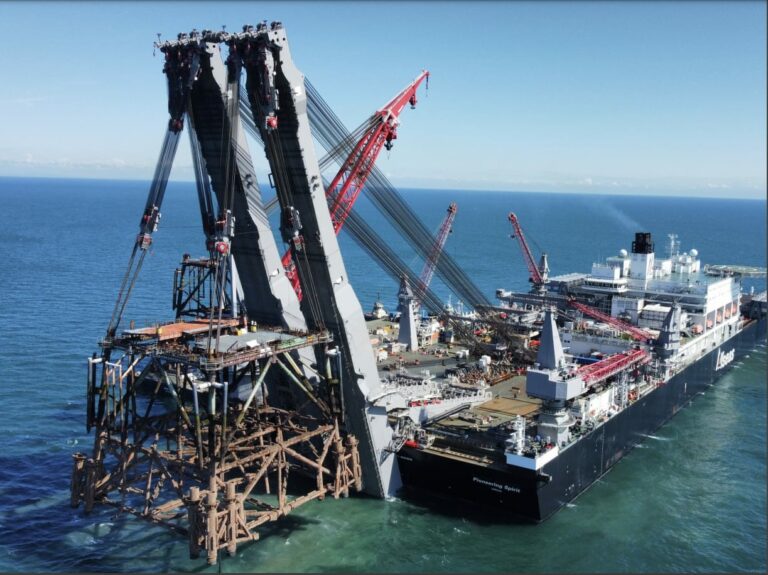 Spirit Energy awarded a contract to Allseas in January 2021 to remove the DP3 and DP4 platforms from the Morecambe Bay gas fields in the East Irish Sea. The first gas from these platforms was produced in 1985 when the South Morecambe field came online. The Pioneering Spirit vessel removed the DP4 topsides in April and DP3 in June 2021.
After Scotland's CessCon Decom got a contract for the onshore decommissioning, dismantling, and recycling of Spirit Energy's Morecambe Bay DP3 and DP4 platforms, these were delivered to the yard in July 2021. The vessel was expected to return to Morecambe Bay to remove the DP3 and DP4 supporting jackets in 2023.
According to Allseas, the Pioneering Spirit vessel wrapped up the DP3 and DP4 jackets removal campaign in less than two days. The 4,500-tonne structures were loaded directly onto Allseas' barge Iron Lady for transfer to the recycling yard.
"Our motion-compensated lift technology again proved highly effective in the shallow waters of Morecambe Bay, renowned for strong currents and challenging tidal conditions," highlighted Allseas.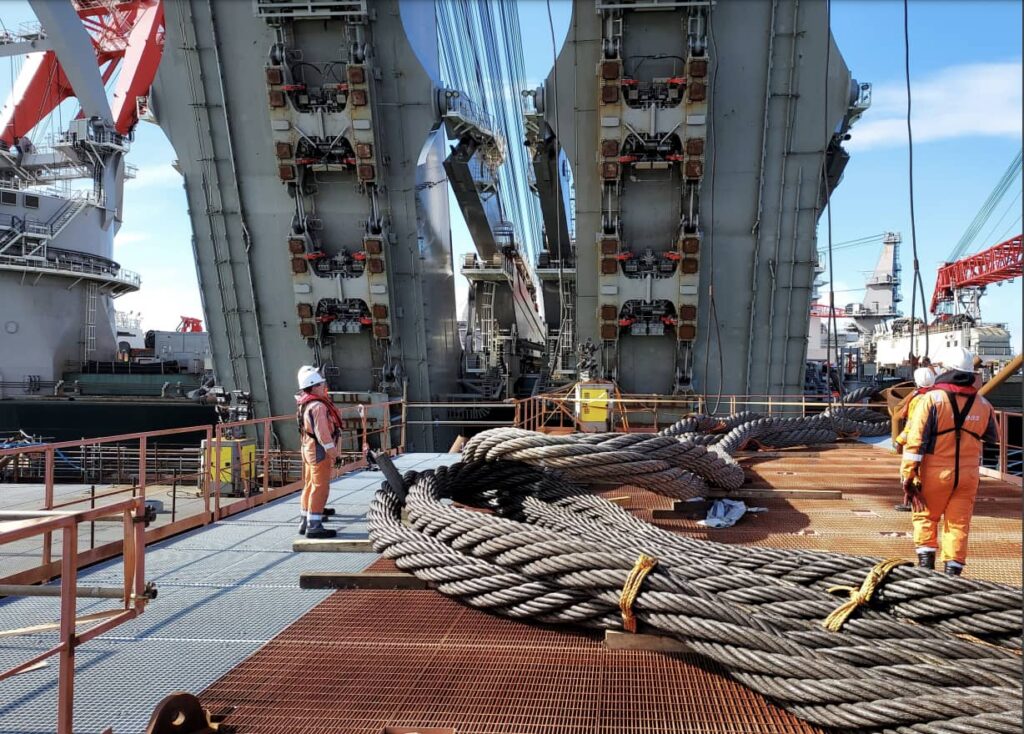 The Pioneering Spirit will return for the remaining six Morecambe Bay facilities once Spirit Energy has maximised gas recovery from the field over the coming years. The total removal weight of the remaining six platforms is more than 72,000 tonnes and the scope of work includes extensive subsea activities covering the removal of mattresses, spools, cables and umbilicals.
Spirit Energy plans to convert its depleted South Morecambe and North Morecambe gas fields and Barrow onshore gas terminal into a carbon storage cluster if granted a licence by the North Sea Transition Authority (NSTA). Under current projections, the project has the capacity to store up to one gigaton of CO₂ – which equates to roughly three years' worth of UK CO₂ current emissions.
According to the company, this cluster will provide a carbon storage solution for the UK's industrial heartlands and is set to be "one of the biggest carbon storage and hydrogen production clusters in the UK."
With this in mind, Spirit Energy is exploring opportunities such as blue hydrogen production, hydrogen power generation, direct air capture, and integration with renewable power generation, which could expand the cluster, working in tandem with the carbon storage facility to help realise the area's full potential.