Gazprom, Wintershall Dea discuss further cooperation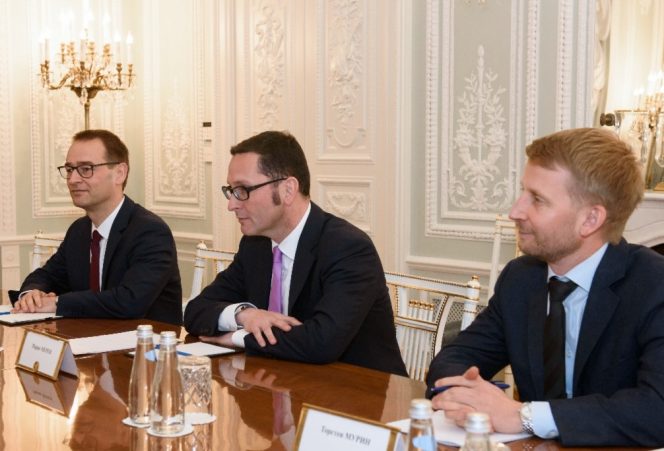 ---
Russian giant Gazprom and Germany's largest natural gas and crude oil producer Wintershall Dea have held a meeting to discuss further ways of cooperation between the two firms.
Gazprom said that the meeting was focused on the current issues of cooperation between the companies.
According to the company, particular attention was paid to natural gas deliveries. The parties noted the contribution of the Nord Stream gas pipeline to the reliability and safety of gas supplies to consumers in Germany and Europe.
Special emphasis at the meeting was placed on the progress of the Nord Stream 2 project and the development of the German gas transmission system.
Also, the parties discussed the ongoing interaction between the companies on developing deposits located in Russia.
Gazprom's chairman Alexey Miller and chairman of the board of Wintershall Dea Mario Mehren expressed their appreciation for the joint efforts on the projects for the development and exploration of Blocks 1A, 4A and 5A in the Achimov formations of the Urengoyskoye oil, gas, and condensate field and the Yuzhno-Russkoye oil and gas field.
It is worth mentioning that Gazprom's gas supplies to Germany hit a record high of 58.5 billion cubic meters in 2018. It was an increase of 5.1 billion cubic meters (9.5 percent) against the 2017 record of 53.4 billion cubic meters.
As for Nord Stream 2, it is a pipeline system that consists of two approximately 1,230-kilometers-long pipelines, each made up of some 100,000 pipe joints.
The pipeline was designed as two parallel 48-inch lines, roughly 1,200 kilometers long, each starting from south-west of St. Petersburg and ending at the German coast in Greifswald.
Nord Stream 2's natural gas pipelines will have the capacity to transport 55 billion cubic meters (bcm) of Russian gas a year to the EU, for at least 50 years.
Over 75 percent of Nord Stream 2 has been completed so far and, according to a statement made by OMV CEO Rainer Seele in August, there was still a realistic chance to complete the Nord Stream 2 pipeline project on schedule.
---