Giving a Push to Energy Transition at Offshore Energy 2019
Is the energy transition moving fast enough? Not yet. We can gain pace and we need to. Creating the opportunity to discuss collaboration, showcasing the necessary innovations, and learning from each other is what Offshore Energy set out to do this year.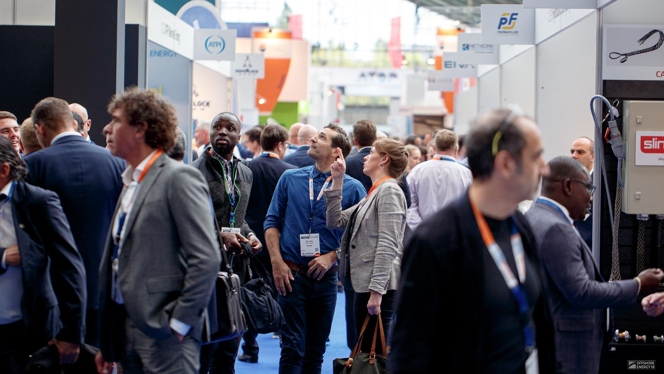 Combining oil, gas, marine energy, and offshore wind at one event, Offshore Energy Exhibition & Conference (OEEC) owned the theme: Home of Energy Transition.
After three days of doing business, networking, celebrating innovation, and making new collaborations, Offshore Energy Exhibition & Conference has closed its doors for this year. The event brought together over 550 exhibitors and partners and over 10,000 visitors in the Amsterdam RAI.
Trade missions visited from Bangladesh, Belgium, Brazil, China, France, Germany, Lithuania, Mexico, Morocco, Poland, Portugal, Qatar, Singapore, Vietnam, Taiwan, United Kingdom, and United States. They shopped around and were introduced to various companies.
The conference and side events attracted many (international) delegates.
"During the conference I got to learn about the energy transition developments in the North Sea and in the world. I also listened to different scenarios and found out where opportunities lie for my company. It was very beneficial," said a visitor of the conference.
Energy Plaza was buzzing
Energy Plaza was a new feature to the Offshore Energy Concept and housed the Conference Dome, The Stage, Experience Zone, The Studio, Startup Zone and the exclusive Premium Lounge.
"This edition of OEEC proved again the importance of bringing people from the industry together to collaborate. Especially when it comes to the energy transition we need to learn from each other," said Coert van Zijll Langhout, director Navingo BV, organizer of OEEC.
The next Offshore Energy Exhibition & Conference takes place on 26, 27 and 28 October 2020.
More information about Offshore Energy Exhibition & Conference can be found on the website.
Source: Navingo