Green light for controversial $12 billion Bay du Nord oil project
After several delays, the government of Canada has approved the Equinor-operated Bay Du Nord offshore oil project, located in a harsh, deepwater environment, claiming it will be among the lowest carbon per barrel oil in the world, meeting the current global demand at this important time of transition. However, environmentalists have accused the government of greenwashing.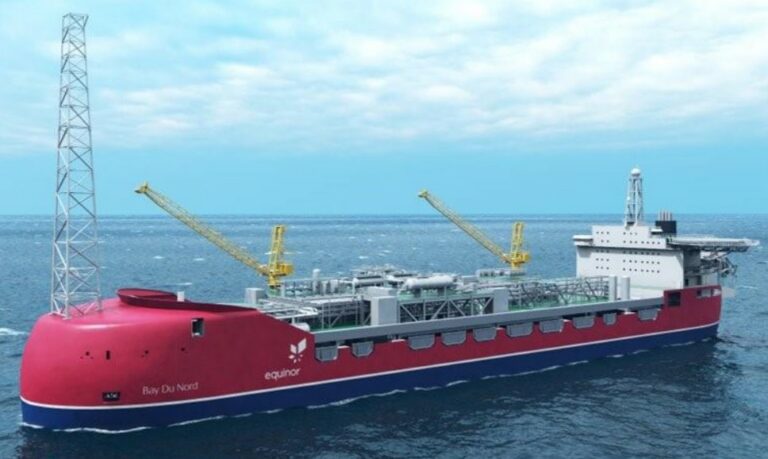 Equinor is proposing to install and operate a floating offshore oil and gas production facility in the Flemish Pass, approximately 500 kilometres east of St. John's, Newfoundland and Labrador, in the Atlantic Ocean. The Bay du Nord Development Project would be in operation for approximately 30 years, with the potential for additional wells and tie-backs to the production facility.
The Impact Assessment Agency of Canada conducted an environmental assessment of the project. On Wednesday 6 April 2022 Canada's Minister of the Environment and Climate Change, Steven Guilbeault, approved the project after determining that it is not likely to cause significant adverse environmental effects.
According to Newfoundland & Labrador Oil & Gas Industries Association (Noia), the value of the Bay du Nord project is currently estimated at over $12 billion.
Offshore Energy has reached out to Equinor, seeking comment on this latest development. A spokesperson for Equinor said: "Equinor is pleased with the strong support that the Bay du Nord project has received from stakeholders across the province and Canada. We now look forward to progressing this key investment in Canada – which has the potential to produce the lowest carbon oil in the country."
When it comes to the next step in the project, the spokesperson stated: "Equinor now continues its work to mature the Bay du Nord development project – a final investment decision is anticipated in the next couple of years, and we believe the first oil could be achieved as early as late-2028."
As previously reported, the project has been the subject of much deliberation and the government has found itself between a rock and a hard place with pressures over climate change and the urgent need to transition to clean energy sources on one side and growing concerns over energy security due to the war in Ukraine on the other.
In late March, the government tabled its emission reduction plan, laying out an achievable path toward Canada's emissions reduction target of 40-45 per cent below 2005 levels by 2030 and net-zero emissions by 2050.
As part of that plan, the government has committed to cap and cut emissions from the oil and gas sector at the pace and scale needed to get to net-zero by 2050.
Guidance for "best-in-class" low-emissions projects
Also on Wednesday, Minister Guilbeault announced plans to develop guidance that will require proponents of new oil and gas production projects subject to a federal impact assessment to demonstrate that they will have "best-in-class" low-emissions performance.
New projects would have to deliver emissions performance—the amount of greenhouse gas pollution it takes to produce a barrel of oil or cubic metre of natural gas—that is best in class, and all future oil and gas projects would have to be net-zero by 2050.
The new guidance will explain how proponents of new oil and gas projects subject to a federal impact assessment should use the analysis required by the Government of Canada's strategic assessment of climate change (SACC) to demonstrate that the project will be "best in class."
This will be done by demonstrating that the project will integrate advanced technologies and best environmental practices (BEPs), including emerging technologies, to minimize emissions; comparing the project's emissions with high-performing projects in the world; and developing a plan to achieve net-zero emissions by 2050 if the project will continue to operate after that date.
The new guidance will also include information about how a proposed project is consistent with the overall economic transition to a low carbon economy, including considerations such as how the project will remain competitive across the global low-carbon transition and net-zero scenarios, and how it avoids supporting activities and assets that are at risk of becoming stranded from declining demand.
The development of the guidance will be informed by consultations with industry, provinces, territories, Indigenous Peoples, and other stakeholders.
The Canadian Association of Petroleum Producers (CAPP), which describes itself as the voice of Canada's upstream oil and natural gas industry, welcomed the approval of the project. CAPP's Paul Barnes, Director, Atlantic Canada & Arctic, commented: "Ensuring there is a clear, fair and transparent process for the approval of natural resource projects in Canada is critical to building confidence in Canada's investment climate. Bay du Nord is an environmentally sound project that will provide secure, responsibly developed energy to the world."
'No such thing as green oil'
This guidance on "best-in-class" low-emissions performance comes amidst opposition from environmentalists towards the development of new oil and gas projects in light of the urgency of climate change and the need for transition to clean sources of energy.
Environmental activists have been opposing the development of Bay du Nord and now that it has been approved, the activists are pledging they will ensure that the project does not proceed.
Sierra Club Canada Foundation, a Canadian environmental organisation, said the approval showed the government will not act to protect the environment and that the federal government has "abandoned our responsibility to be climate leaders."
"There is no such thing as green oil and the IPCC has confirmed that no further expanded production of fossil fuels in green. This project is not necessary for the economy of NL or global energy security," the organisation said.
Gretchen Fitzgerald, National Program Director, Sierra Club Canada Foundation, said: "This decision is a cowardly abdication of the need to confront climate change. The IPCC report released this week was clear that no new oil and gas extraction can be allowed if we are to maintain a livable planet. Bay du Nord also places whales, deep-sea corals and other ocean life at risk from spills, noise, and vessel traffic. We cannot allow this approval to stand and will be working tirelessly to ensure the project does not proceed."
Furthermore, the organisation says that the measures announced for a just transition are "nothing more than a smokescreen and will not offset in any way the massive negative climate impacts that will be caused by Bay du Nord."
They say the government is attempting to greenwash Bay du Nord by announcing that maybe they will build a few wind turbines.
[The article has been updated with a statement from Equinor and a statement from CAPP.]