Hapag-Lloyd, DB Schenker ink biofuel-powered transport deal
German liner major Hapag-Lloyd has entered into a partnership with compatriot logistics provider DB Schenker for emission-reduced container transports with waste- and residue-based biofuel.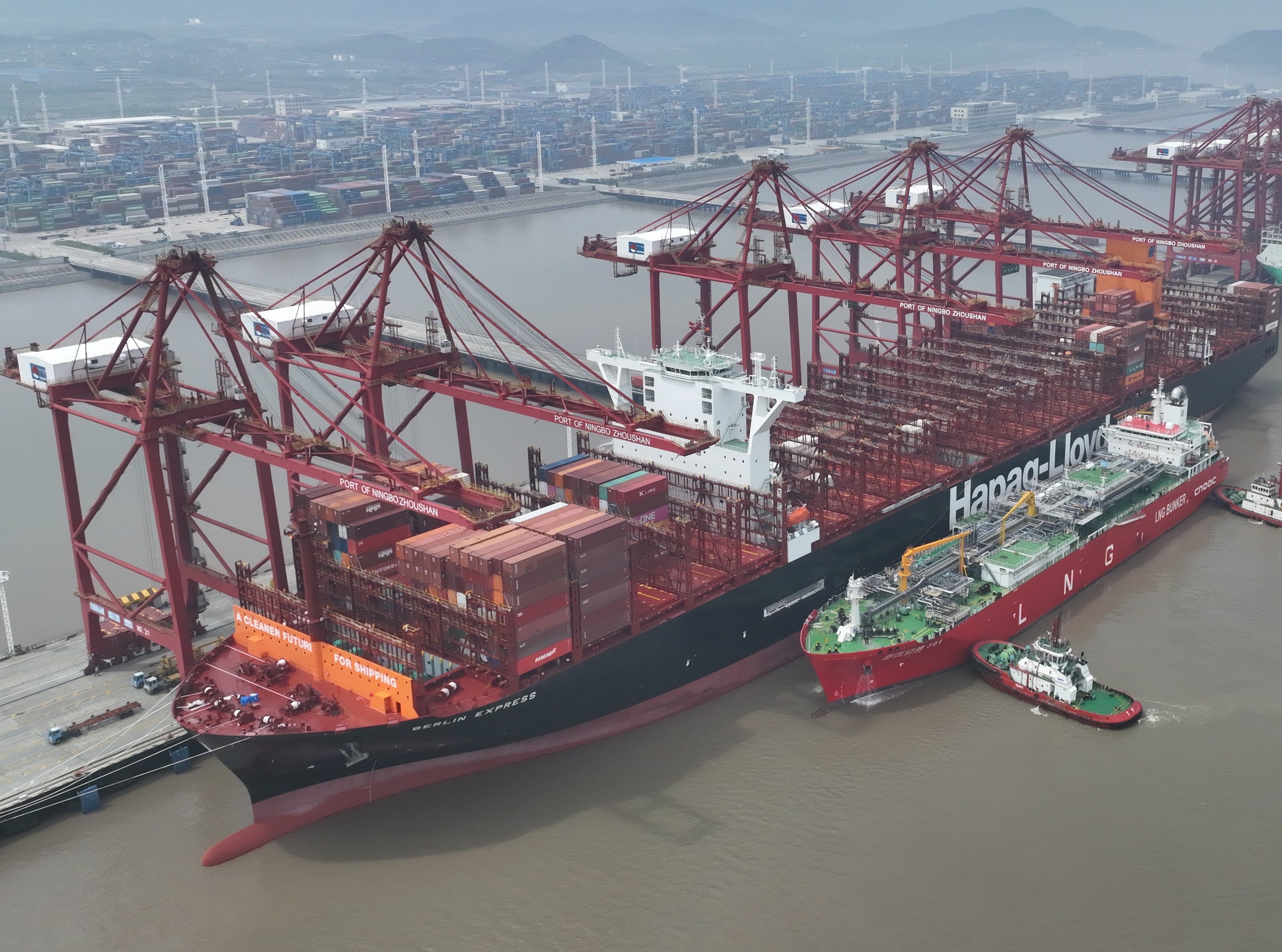 The deal follows the launch of Hapag-Lloyd's "Ship Green" product in May enabling customers to transport their cargo on biofuel blends to cut emissions. The product offers three different options, representing different levels of CO2e emission reduction for the ocean leg of the shipment: 100%, 50% or 25%.
By the end of 2023, DB Schenker plans to claim approximately 3,000 metric tonnes of carbon dioxide equivalent (CO2e) emissions avoidance. This is based on at least 1,000 tonnes of pure biofuel.
"We are excited about this new partnership with DB Schenker as we share the common goal of making logistics more sustainable. Collaborations like these set a clear signal in the industry and are another example of a step-by-step approach to further decarbonise supply chains", said Henrik Schilling, Managing Director Global Commercial Development at Hapag-Lloyd.
"I am very pleased that together with Hapag-Lloyd we are setting another example for sustainability in our industry. This partnership further enlarges our global biofuel offer in ocean freight. With this commitment we are one step closer to our goal of becoming carbon-neutral," said Thorsten Meincke, Global Board Member for Air & Ocean Freight at DB Schenker.
Biofuel is an important part of Hapag-Lloyd's sustainability journey as biofuel blends can give a meaningful contribution to decarbonization as a drop in fuel. The 'drop in' quality of the solution means that little or no modifications are needed to the existing vessel's infrastructure to switch to biofuel.
In 2022, the company used more than 120,000 tons of biofuel on more or less all of its ships.
Ship Green is available for all shipments containing standard, hardtop or tank equipment, and the product is an important part of the company's path towards achieving climate-neutral fleet operations by 2045.
In addition, while LNG has been a significant focus for the company, Hapag-Lloyd is actively looking into the potential of methanol and ammonia.
Last month, the company together with Hong Kong-based containership owner Seaspan hired MAN Energy Solutions (MAN ES) to deliver engine retrofit solutions for their vessels to be able to run on green methanol.
Under the terms of the deal, MAN will deliver 15 engine retrofit solutions and the deal includes 45 optional engine retrofit solutions. Each conversion could provide a CO2 reduction of 50.000–70.000 tonnes each year, when operating on green methanol.