HD Hyundai rolls out low-carbon electric propulsion system for large ships
South Korean shipbuilding giant HD Hyundai has developed its own low-carbon electric propulsion system for very large crude carriers (VLCCs).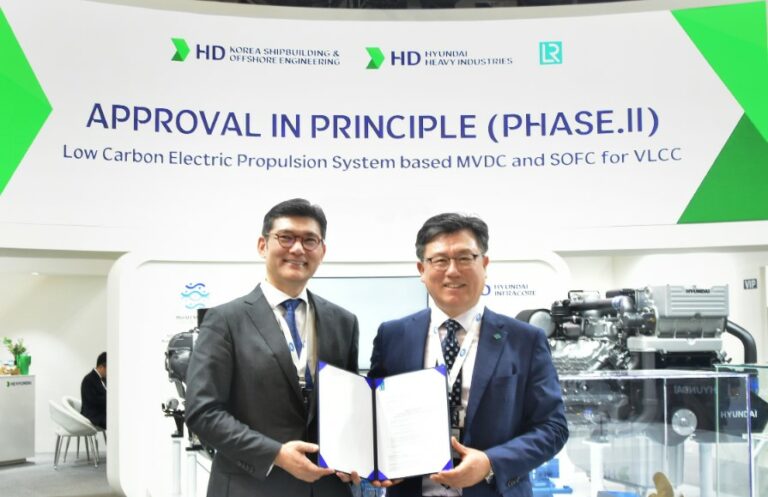 HD Korea Shipbuilding & Marine Engineering and HD Hyundai Heavy Industries (HHI), affiliates of HD Hyundai Shipbuilding, recently received approval in principle (AIP) for the low-carbon electric propulsion system (phase II) for solid oxide fuel cell (SOFC) battery-based VLCC from UK classification society Lloyd's Register.
LR granted the approval to a 30-megawatt (MW) electric propulsion system designed for a 300,000-ton VLCC.
Leveraging medium voltage direct current (MVDC) technologies and SOFC, the system is anticipated to achieve net zero while producing the same propulsion efficiency as a large engine by utilizing an ammonia dual-fuel medium-sized engine and a high-efficiency, large-capacity fuel cell.
In addition, compared to existing solutions, the system's energy efficiency has improved by 20%, and power quality has been higher by about 40%. Additionally, the overall weight of the system was reduced by 20%, according to the shipbuilder.
HD Hyundai said it plans to complete land-based verification of the newly developed low-carbon electric propulsion system for large ships by 2027 and eyes commercialization by 2028.
Previously, HD Korea Shipbuilding & Marine Engineering (KSOE) and HD HHI obtained concept design certification for the system configuration from LR in February this year, and have continued to cooperate with the classification society to develop this project which includes verification of the system's efficiency and propulsion drive.
In related news, HD Hyundai revealed it has become the world's first company to begin recycling the boil-off gas generated during the construction of LNG-fueled ships.
Last week, the shipbuilder said it established a 'greenhouse gas emission reduction plan during LNG-fueled ship construction' as a national project coordinated by the South Korean Ministry of Trade, Industry and Energy (MOTIE).
As informed, participating companies and organizations plan to demonstrate and apply a plan to recover boil-off gas generated during the test operation of LNG-propelled ships and recycle it as city gas in shipyards by 2026 to reduce greenhouse gas emissions during ship construction.