HelioRec collects award for floating solar-powered electric charging stations
French start-up HelioRec has received an 'ocean tribute' award for its floating solar-powered solution for electric charging, securing a cash prize provided by the Monaco-based Prince Albert II Foundation and Messe Düsseldorf.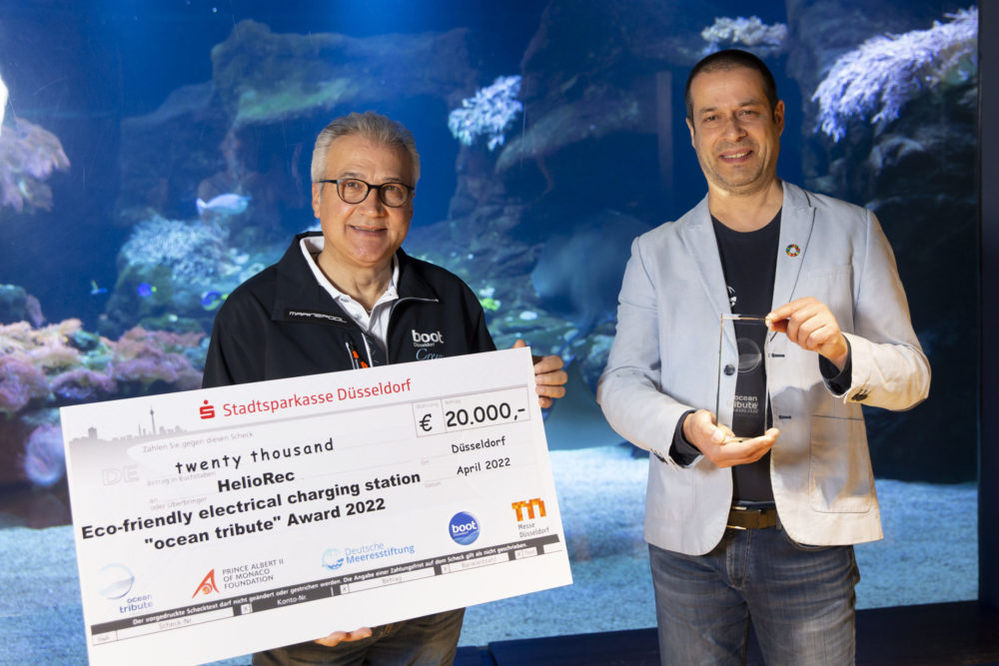 In the run-up to the award, the expert jury had selected five nominees from the 27 international applications, which was then followed by public voting which determined marine conservationists' favorite.
Namely, the award is bestowed to companies and technology solutions that help maintain healthy oceans and pollution-free environment.
The award was announced at boot Düsseldorf 2022 – the leading water sports trade fair and boat show worldwide, held online this year due to pandemic – by Petros Michelidakis, the fair's project director, who presented the cash prize check for €20,000 to HelioRec.
Explaining why both the jury and the public voted for HelioRec, Frank Schweikert – German journalist, biologist, networker and environmental activist – said: "The French company has won with its environmentally friendly electric charging stations for the maritime sector based on floating solar power plants.
"Unused water is converted into a clean energy source through an offshore floating solar system. The main objectives of the project are to save land area in a port area, generate a clean energy source, establish fast charging stations for electric vehicles and electric boats in the port, and realize new digital services for data prediction and optimization.
"Other concepts of the project are fast charging stations for electric vehicles and electric boats in the port. Another goal is the circular economy approach: recycled plastic is used to manufacture floating systems, reducing system costs and carbon footprint."
Michelidakis added: "Healthy oceans and clean waters are a top priority for all friends of water sports. Our oceans also play a major role in terms of the climate balance and therefore, with the 'ocean tribute' award, we hope to attract further supporters for this important cause."
To remind, HelioRec recently signed partnership agreement with Dutch maritime giant Van Oord to explore mutually beneficial options of using their technologies and vessels in the context of energy transition.
Namely, as HelioRec designs floating solar power plants, the company will in collaboration with Van Oord investigate the use of floating solar technology to power an electric charging station, ultimately meant to charge Van Oord's electrical unmanned survey vessels.
---
Follow Offshore Energy – Marine Energy
---