Hibiscus and Ithaca mull concept for joint North Sea development
Malaysia's Hibiscus Petroleum and UK's Ithaca Energy are revisiting the concept development for a pair of North Sea discoveries the two companies will develop together.
Hibiscus Petroleum and its fully owned subsidiary, Anasuria Hibiscus UK (AHUK), acquired the discovered oilfields called Marigold and Sunflower on 16 October 2018.
Due to the Covid-19 impact, Hibiscus in December 2020 pushed back the final investment decision (FID) for the Marigold development to the end of March 2021.
Meanwhile, another development has happened, which is affecting the development of the Marigold field. Namely, in January 2021, the UK Oil and Gas Authority (OGA) requested that AHUK works with Ithaca Energy, the holder of Licence P2158 (Block 15/18b) which is adjacent to the Marigold field and contains the Yeoman discovery, and propose a common development solution for the resources found in both licences.
Ithaca acquired the licence P2158 (Block 15/18b) from French Total back in 2020.
As a result of the request by the UK's petroleum regulator, Ithaca and AHUK have agreed to jointly develop the Marigold resources in Block 15/13a and Block 15/18b, which includes the resources in Yeoman (now renamed Marigold East).
Hibiscus said in an update on Monday that the parties are currently negotiating a Joint development Agreement and are revisiting the development concept to determine whether the Voyageur Spirit FPSO is the optimum production facility for the enlarged resources base being developed.
The Voyageur Spirit FPSO had previously operated on Premier Oil's Huntington field in the UK North Sea until Premier decided to decommission the field and submitted the decommissioning plan in early 2020. The FPSO left the field in the summer of 2020 and is now being preserved at the UK's Kishorn Port.
In addition, the tieback of the combined resources to RepsolSinopec's Piper B platform is also being reconsidered as a development option by Ithaca.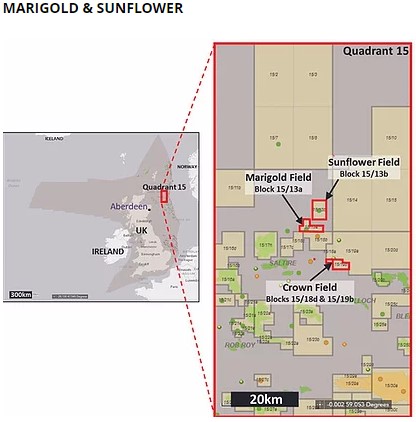 According to Hibiscus, the decision is expected to be made at the end of August 2021 as to which concept will be taken forward for execution.
Hibiscus also added that, pursuant to the farm-in agreement executed on 20 January 2021 with Caldera Petroleum on 29 March 2021, AHUK received consent from the OGA to transfer 37.5 per cent of the P198 licence containing the Marigold and Sunflower fields from Caldera to AHUK. The transfer of interest has since been completed.