Higher oil prices lift Equinor's 3Q profit
Norwegian oil company Equinor has returned to profit in the third quarter of 2018, posting a net income of $1,6 billion, compared to a net loss of $478 million a year ago.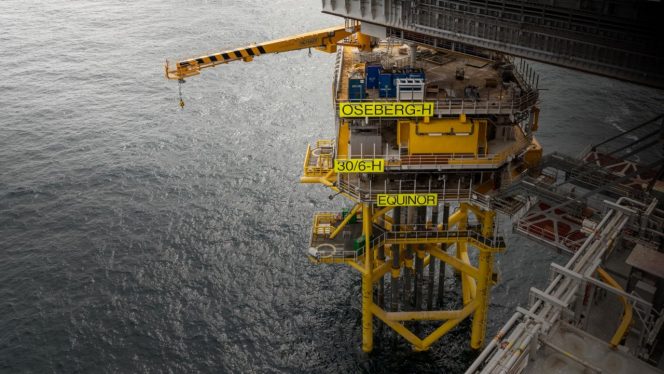 Adjusted earnings after tax more than doubled. They were $2.0 billion in the third quarter, up from $0.8 billion in the same period last year.
"Higher prices for both liquids and gas, coupled with high production, contributed to the increase," Equinor said.
Adjusted for new fields in production and portfolio changes, underlying operating costs and administrative expenses per barrel are up slightly compared to the same quarter last year, mainly due to increased turnarounds and preparation for start-up of new fields.
One of these is Oseberg Vestflanken 2 field in the North Sea, which started producing mid-October via Oseberg H platform (photo) –  the first unmanned platform on the Norwegian Continental Shelf
Related: VIDEO: First oil flows at Norway's first unmanned platform
Production slightly up
Equinor delivered total equity production of 2,066 mboe per day in the third quarter, an increase of 1% from 2,045 mboe per day in the same period in 2017.
"The increase was primarily due to start-up of new fields, portfolio changes and additional wells coming on stream, partially offset by high maintenance," Equinor explained.
As of third quarter 2018, Equinor had completed 15 exploration wells with seven commercial discoveries.
The appraisal of the Cape Vulture discovery in the quarter confirmed the doubling of the remaining reserves at Norne, extending the life and value of the offshore Norway field.
Adjusted exploration expenses in the quarter were $239 million, down from $416 million in the same quarter of 2017, mainly due to a higher capitalization rate and lower drilling activity.
Looking ahead, organic capital expenditures for the full year 2018 are estimated at around $10 billion, a reduction from original plans.
Equinor expects its production for 2018 to be 1-2% above the 2017 level.
Scheduled maintenance activity is estimated to reduce quarterly production by approximately 10 mboe per day in the fourth quarter of 2018. In total, maintenance is estimated to reduce equity production by around 35 mboe per day for the full year of 2018.
Related news
List of related news articles