Horisont Energi picks site for Errai onshore CO2 terminal
Horisont Energi has selected a site in Norway where the onshore CO2 terminal for the Errai large-scale carbon capture and storage (CCS) project will be located.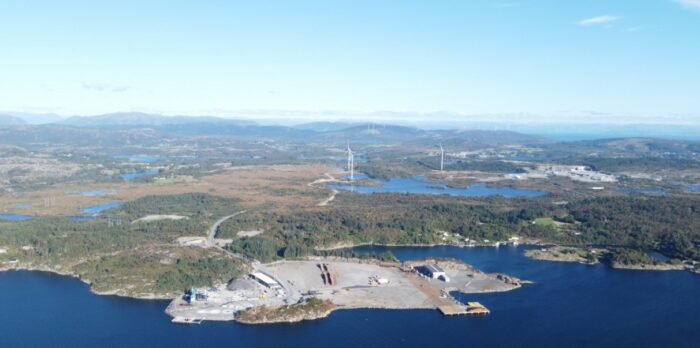 The Norwegian company entered into an option agreement with Haugaland Næringspark to locate the land-based CO2 terminal for the Errai CCS project to Gismarvik in Rogaland, on the west coast of Norway, where Haugaland Næringspark has one of Norway's largest industrial areas.
The infrastructure is already in place and has access to fiber, electricity, water, and sewage, and a large harbor basin with a deep-sea quay.
According to Horisont Energi, the planned CO2 terminal at Gismarvik will have a design that meets the requirements of the EU taxonomy regarding environmental issues and safety.
The terminal will receive CO2 from both European and Norwegian customers, including from the planned CO2 terminal in the Port of Rotterdam.
From there, carbon would be transported through a pipeline to the North Sea, where it would be injected and permanently stored in an offshore reservoir.
"We are pleased to announce this agreement with Haugaland Næringspark after a thorough process to find a suitable site for this large carbon capture and storage project. This will be an exciting contribution to the work of developing new green industry and infrastructure in Rogaland," said Bjørgulf Haukelidsæter Eidesen, Managing Director of Horisont Energi.
"We see increasing demand for CO2 storage in Europe and we will build up a European value chain in the market for carbon capture and storage. This can play a key role in the transition to net zero emissions."
Errai, being developed by Horisont Energi and Neptune Energy, is the first commercial CO2 storage project in Norway.
The partners recently submitted an application to the Norwegian Ministry of Petroleum and Energy for storage of CO2 in the area on the Norwegian continental shelf.
Errai will be able to store between 4 and 8 million tonnes of CO2 per year, with the possibility of storing more in later phases of the project. Horisont Energi recently announced that E.ON will store more than 1 million tonnes of CO2 annually in Errai.
In addition to the onshore terminal for intermediate storage and the quay facility, the project will include an associated offshore reservoir for the permanent storage of CO2.
The award of a license is expected to be announced during the first half of 2023, with operations expected in 2026.
SUBSCRIBE