Italian ConRo Ship Catches Fire off France, 27 People Evacuated
Twenty-seven people have been evacuated from a fire-stricken Italy-flagged roll-on/roll-off container (ConRo) vessel in the Bay of Biscay off the French coast, Maritime Prefecture of Atlantic said.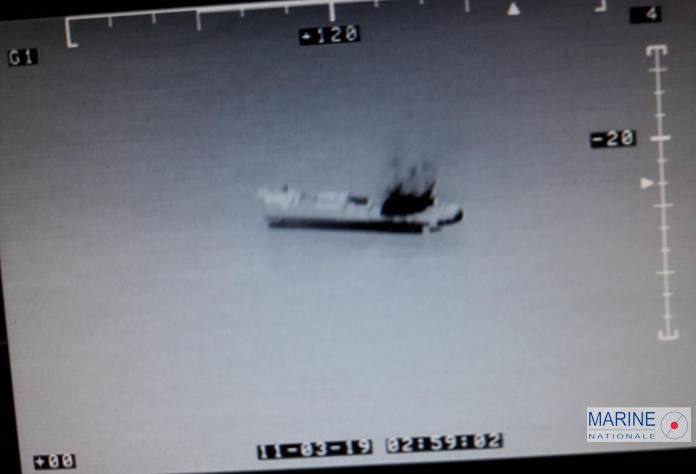 The 56,642 gross ton Grande America caught fire some 263 kilometers southwest of the Pointe de Penmarc'h, south Finistère, in the evening hours of March 10, 2019.
At the time of the incident, the ConRo vessel was en route from Hamburg in Germany to Casablanca in Morocco.
.@HMS_Argyll received a mayday from the container ship Grande America which was on fire. Watch what happened next. https://t.co/OUZkqAAPR5 pic.twitter.com/Oqa9qoZZlO

— Royal Navy (@RoyalNavy) March 11, 2019
Built in 1997, the 28,000 dwt Grande America is owned and operated by Italian Grimaldi Group.
The fire started in one of the containers loaded on the weather deck, spreading to other containers positioned close by, Grimaldi told World Maritime News.
After reporting the fire to relevant authorities, the ship's captain initially planned to move the vessel to the Spanish Port of A Coruña. However, Grande America could not continue its course as the situation on board deteriorated.
After an attempt from the crew to extinguish the fire, the master decided that the crew should leave the vessel by life boat, as it was considered that the winds may well spread the fire further.
Twenty-six crewmembers and one passenger were safely evacuated onto the Royal Navy frigate HMS Argyll in the early morning hours of March 11, with the vessel heading towards the French port of Brest.
A number of agencies have participated in the rescue operation and deployed their assets, including the French and British navies.
The French authorities dispatched a Falcon 50 maritime surveillance plane and, together with Grimaldi, the fire fighting tug vessel is presently trying to extinguish the fire onboard. It is expected that once the fire is extinguished, Grande America will be towed to a suitable port, according to Grimaldi.
[#Opération] Navire de commerce #GrandeAmerica actuellement en détresse dans le golfe de Gascogne. 26 membres d'équipage et 1 passager évacués sains et saufs cette nuit. Incendie à bord en cours.
Pour plus d'information : https://t.co/khq6IVYMp7 @SGMer @MarineNationale pic.twitter.com/w28kaCLuaO

— Premar Atlantique (@premaratlant) March 11, 2019
World Maritime News Staff