J. Lauritzen, Cargill add third methanol-fuelled Kamsarmax to their tally at Tsuneishi
Danish investment company J. Lauritzen is expanding its partnership with Swiss freight trader Cargill by adding a third methanol dual-fuel 81,200 dwt Kamsarmax bulk carrier to their existing order of two vessels.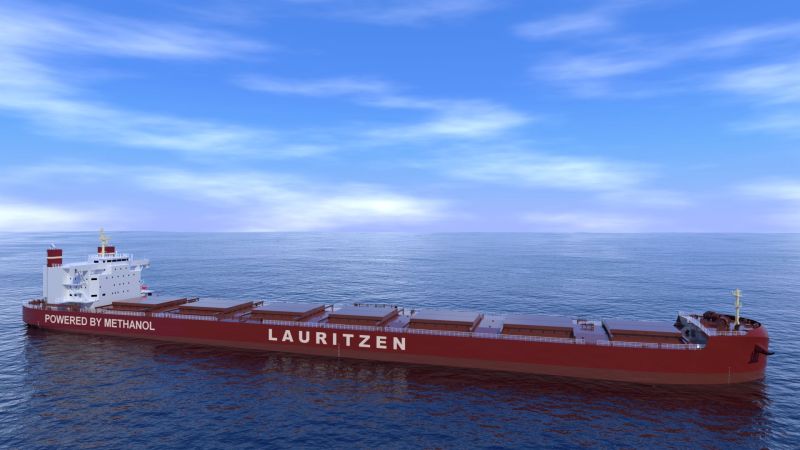 The vessels are capable of trading with zero carbon emissions when powered by green methanol, and biodiesel. All three vessels will be built by Japanese shipbuilding major Tsuneishi Shipbuilding Group.
The shipbuilder has spearheaded the development of methanol-fueled vessels that utilize green methanol as fuel resulting in zero emissions.
The result has been the world's first Kamsarmax methanol dual-fueled bulk carrier. By incorporating methanol and advanced hull design, the Kamsarmax bulk carrier reduces CO2 emissions by 15%. Equipped with a large-capacity methanol fuel tank, the vessel ensures ample cruising distance via improved fuel efficiency, Tsuneishi says.
According to the Japanese shipbuilder, 13 methanol-fuelled Kamsarmax vessels have been ordered since January 2023.


Like the first two vessels, the third vessel will be fully owned by Lauritzen NexGen Shipping and operated by Cargill for a minimum period of seven years.
To remind, the first two Kamsarmaxes were ordered back in April as J.Lauritzen forged ahead with its fleet decarbonization plans.