Jan De Nul Names Its Newest Offshore Installation Vessel
Jan De Nul Group has named its newest offshore installation vessel Taillevent, in the Belgian port of Ostend.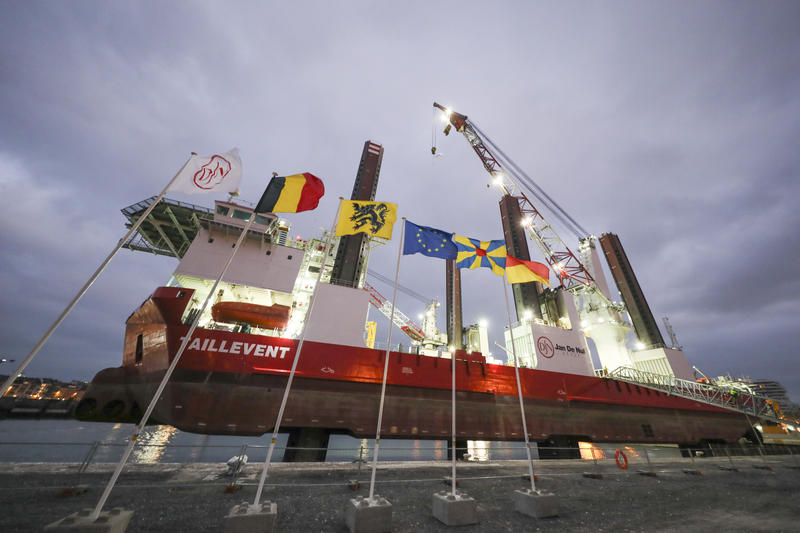 Pauline Stassijns, granddaughter of director Dirk De Nul, baptised the vessel during the ceremony.
In July 2018, Jan De Nul acquired this offshore installation vessel, at that time MPI Discovery, from the Dutch company Vroon Group.
The 2011 built Taillevent is designed specifically for the transport and installation of offshore wind turbines and their foundations. It is also suited to other offshore sectors, such as the oil and gas industry.
The Taillevent is 140 meters long and can operate in up to 40 meters of water depth. Furthermore, this installation vessel has an on-board crane with a lifting capacity of 1,000 tonnes and an auxiliary crane of 50 tonnes.
The vessel got its name from a chef who played a very prominent role in French culinary history. Guillaume Tirel, the Bocuse of the fourteenth century, was nicknamed Taillevent working as a kitchen aid at a young age. Taillevent literally means 'cutting the wind', name they gave him because of the agility with which he flashed through the kitchen.
Guillaume Tirel, Taillevent, was born in a Norman village in 1310. At the age of sixteen, Tirel went to work as a kitchen aid at the court of Queen Jeanne d'Evreux. His career soon took off, from 'queux' (chef) to the French royalty, to 'premier queux' (first chef) to 'first squire' to all royal kitchens.
Around 1380, Taillevent wrote one of the oldest and most influential cookbooks of France: 'Le Viandier' considered as the basis of the renowned French gastronomic tradition.
Taillevent died at the respectable age of 85.