Japan set to install zero emission chargers for ships in Hanshin Port and Keihin Port
Japanese industry stakeholders including e5 Lab, Marindows, e-Mobility Power, CHAdeMO Association, The Japan Ship Technology Research Association, Mitsubishi Shipbuilding, and Development Bank of Japan have established the Promotion Council for Zero Emission Chargers for Ships, aiming to promote the widespread use of standardized shore-to-ship power stations.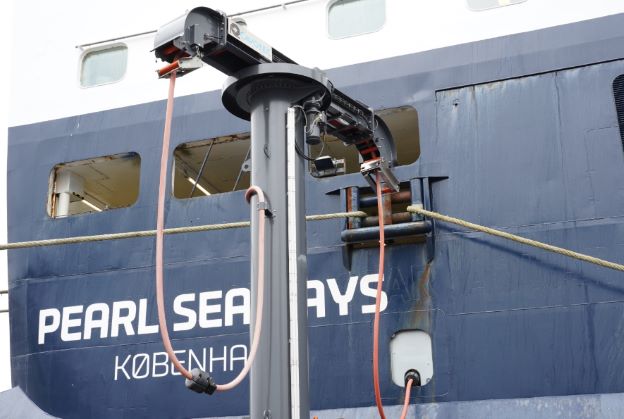 Japan aims for "carbon neutrality by 2050," with an interim goal to reduce emissions by 46% by 2030. To achieve this, a key focus is being put on decarbonizing port areas, which are vital in the global supply chain and are responsible for 60% of Japan's CO2 emissions.
A key initiative has emerged in the form of a "shore-to-ship power supply," providing electricity to docked ships to reduce their C02 emissions along with noise pollution, N0x, SOx, PM pollution and vibration.
The Council, in line with the government's policy, has recognized the effectiveness of zero-emission chargers (onshore power) for ships to promote decarbonization in maritime and port areas and the expansion of renewable energy use and has united in purpose.
Taking into account the various issues in the ship power supply business in the early stages of EV ship diffusion, the participating members of the council aim to develop and maintain a strategic ecosystem for zero emission chargers for ships, and to strategically engage in efficient operations and effective utilization.
The aim is to bring about improved user convenience, an increase in the number of ships using the service, the independence of the ship power supply business, and the further development of chargers.
Ultimately, the council members believe that this will realize zero emissions from ships in port areas, the spread of EV ships, the expansion of renewable energy use, and improvements in global and local environmental issues.
For the first phase, by fiscal 2025, the companies plan to install prototype standardized universal zero emission chargers for ships in Hanshin Port and Keihin Port, which are international strategic ports where domestic and foreign freight and ships are concentrated.
The plan is to expand these chargers to ports, fishing ports, marinas nationwide, and overseas.
Moreover, the City of Kobe, Port and Harbor Burea, and the City of Yokohama, Port and Harbor Bureau are participating in the council as observers.
One of the key specific initiatives of the council will be to develop standard universal zero-emission charger system for ships The system will consist of the three elements and will be a standardized specification that transcends company boundaries.
(i) Onshore power station (standardized charger and billing system)
(ii) Shipboard power receiving module (standardized and modularized hardware and software)
(iii) High-capacity communication between ship and shore (standardized high-capacity
communication system within the port)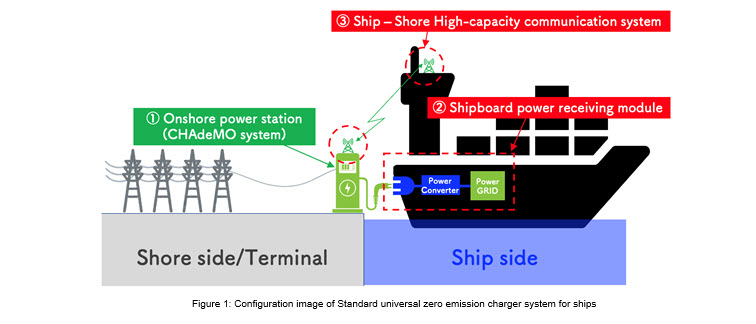 The council will also implement surveys and recommendations on the establishment of standards and rules to set a clear framework for sustainable practices. In addition, social implementation projects are being developed to promote the widespread adoption of eco-friendly solutions in port areas. Furthermore, participating companies are collaborating on information sharing to exchange best practices and knowledge related to decarbonization efforts.
To enhance the impact of these initiatives, mutual utilization of zero-emission chargers between participating companies is being encouraged, fostering a collective approach to reducing emissions. Public relations and promotional activities are also being planned to raise awareness and garner support for the adoption of zero-emission chargers and other eco-friendly practices in the maritime industry.
Recognizing the benefits of collaboration, joint procurement efforts are being explored to achieve cost reduction in implementing sustainable technologies. Additionally, content creation and partnerships for "Zero Emission Charger × X" projects aim to extend the reach and effectiveness of these green initiatives.
The council also aims at building a sustainable ecosystem that includes exploring possibilities for reusing and repurposing resources to further reduce the environmental impact of the maritime sector.