Jersey Oil & Gas reveals Greater Buchan Area concept
North Sea-focused Jersey Oil & Gas has revealed its preferred development concept for the Greater Buchan Area (GBA) development located off the coast of the UK.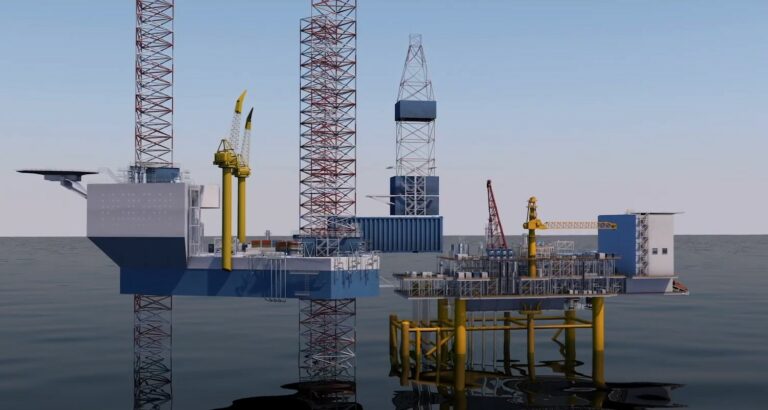 Jersey's Greater Buchan Area development project contains an aggregate of 172 million barrels of oil equivalent (mmboe) 2C contingent resource estimates of light sweet crude and associated gas.
The planned development is centred on resuming production at the Buchan oil field and producing the J2 and Verbier oil discoveries as well as other existing and discoveries yet to be made within the GBA.
In early 2020, Jersey completed an appraise phase assessment of the various development options for the GBA. This option screening phase concluded that the development of the GBA's resources via a fixed production platform located at the Buchan field was the optimum solution when considering environmental factors, safety issues, technical feasibility, execution risk, schedule, capital and operating costs, project economics, availability, and operability.
The selected concept for GBA development is planned to be executed in three Phases. Phase 1 will deliver a single integrated wellhead, production, utilities, and quarters (WPUQ) platform located at the Buchan field. Production from the reservoirs will be supported by the injection of both produced water and seawater. The facility will be normally manned. The Buchan wells will be drilled utilising a heavy-duty jack-up located over a 12 slot well bay.
Phase 1 facilities will be designed to accommodate Phase 2 and Phase 3 of the development. Phase 2 will develop the J2 West, J2 East, and Verbier East discoveries via a subsea tie-back to the GBA platform.
Phase 3 will develop the Verbier West discovery via connection to the Phase 2 subsea infrastructure. Field life is anticipated to be 31 years.
Selection of the final oil and gas export routes will be subject to a detailed economic and risk assessment through formal requests for service issued in February 2021. Initial negotiations with pipeline operators will be conducted under Oil & Gas UK's Infrastructure Code of Practice. It is scheduled that this work will be completed to inform FEED currently planned to take place later this year.
Electrification
In line with the UK Government's Net Zero policies, Jersey recognises the need for a low-carbon power solution. Accordingly, options have been assessed that offers the opportunity to eliminate carbon dioxide emissions associated with power generation on the planned production facility.
Economics have been run based on the provision of power from the UK national grid via the installation of a subsea cable to shore as seen in certain fields in the Norwegian sector.
A decision to adopt a power from shore case considers environmental, social and corporate governance and licence to operate considerations. Jersey added that the details of its corporate carbon policy would be announced soon.
Jersey to form a regional hub
Collaborative studies conducted in parallel with the GBA concept select phase, have identified the potential for significant synergies with neighbouring, third party discovered resources.
Jersey continues to seek further collaboration with neighbouring, third party discovered resources, to provide the company and owners of neighbouring fields with details of the costs and associated economic outturns for various development scenarios.
Future exploration
The GBA includes four drill-ready exploration prospects – Wengen, Cortina, Verbier Deep, and Zermatt – which have combined P50 prospective resource estimates of an additional 219 mmboe. An assessment has been performed to determine the optimum drilling sequence of these various exploration prospects.
As a result, Wengen and Cortina are scheduled to be drilled in the second quarter of 2023 and both could potentially be a highly economic tie-back opportunity to the GBA development.
A successful outcome at either of the Wengen or Cortina prospects could extend GBA's plateau production period into the mid- to late-2030s with enhanced economics.
A separate concept select report summarising the company's findings will be submitted for approval to the OGA by 31 July 2021 in compliance with JOG's commitment under the P2498 licence, which contains Buchan.
Tendering processes for the provision of FEED engineering services is also underway. Currently, Jersey is working on being ready to enter the FEED phase of the GBA project in the third quarter of 2021, with a final investment decision (FID) anticipated for the second half of 2022.
With its concept select report finalised, Jersey can now launch a previously announced farm-out process to seek to secure an industry partner for the GBA development project.
"[…] this will be well received by the industry as an exciting investment opportunity, in light of its scale, economics and low carbon production approach, and [we] currently intend to conclude this process before the end of 2021", Jersey said.
Andrew Benitz, CEO of Jersey Oil & Gas, said: "The GBA has the scale to be extremely low carbon through platform electrification at the same time as offering highly favourable project economics. As a result of a significant amount of work from Jersey Oil & Gas' excellent project team, working with specialist contractors, consultants, and service providers, we are well on track to deliver on our licence commitment to deliver the concept select to the OGA by July this year.
"We now plan to launch a farm-out process, which we expect to be highly attractive to a wide range of oil companies in light of the project's scale, economics and low carbon potential through platform electrification, characteristic of certain fully electrified fields offshore Norway".