JFD Completes Trials for Indian Navy Submarine Rescue Systems
JFD, a part of James Fisher and Sons, has completed air transportability trials for the first of two third generation submarine rescue systems being delivered to the Indian Navy.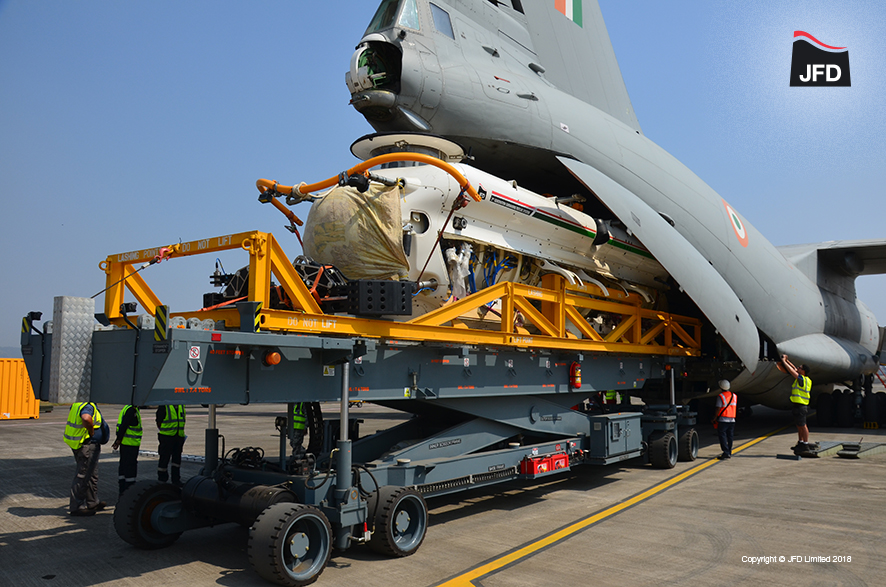 As part of the ongoing delivery of the third generation submarine rescue system to the Indian Navy, JFD conducted the comprehensive aircraft loading trials to fully ensure the effective air transportability of the system, and that the Time To First Rescue (TTFR) is as quick as possible.
The trials were performed in conjunction with the Indian Air Force, using the Ilyushin-76 transport aircraft. The trials proved the functionality of the ground handling equipment provided by JFD to interface with the IL-76, allowing for the safe loading and unloading of all elements of the submarine rescue system.
Giovanni Corbetta, JFD managing director, said: "JFD is pleased to have successfully completed the air transportation trials of the first Indian Navy DSRV System, working in close partnership with the Indian Navy Submarine Rescue Team West and the Indian Air Force to achieve this key milestone in the journey to a fully comprehensive submarine rescue capability. The trials have proven the compatibility of the newly inducted submarine rescue system with the Indian Air Force IL-76 Transporters, and the rapid response and deployment capability provides in support of disabled submarine rescue operations at sea. The fact that the transportation equipment is an embedded part of rescue system is unique and ensures the compatibility and availability of the loading equipment aligns with the rest of the rescue system.
"The active participation of the Indian Navy's submarine rescue team throughout the trials is key to conducting safe and efficient mobilisation operations in support of submarine rescue to allow them the ability to respond effectively to an emergency when a submarine is in distress."
JFD performed the trials to demonstrate the air transportability of the entire Deep Search and Rescue Vehicle (DSRV) system, including the ability to load the custom ground handling equipment at origin and unload it at the final destination.
The air transportation trials follow the sea trials of the DSRV for the first of the two third generation systems being delivered to the Indian Navy.
Under the £193m contract, JFD is delivering two complete third-generation submarine rescue systems, including launch and recovery systems (LARS) equipment, Transfer Under Pressure (TUP) systems, logistics and support equipment, and a 25-year all-inclusive annual maintenance contract.