Jumbo, GoodFuels partner to use biofuel on heavy load carrier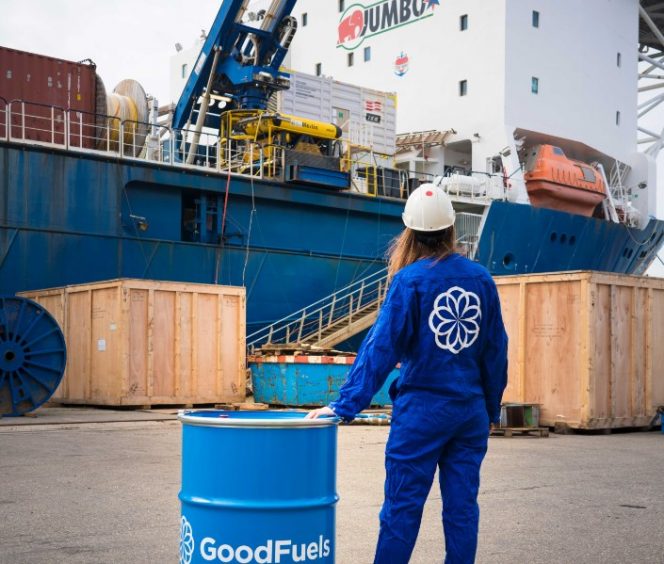 ---
Heavy lift specialist Jumbo Offshore and biofuel supplier GoodFuels have entered into a joint initiative to test marine biofuel oil on an offshore decommissioning project.
Jumbo said that the partnership would pave the way for a fossil fuel to renewables energy transition in the offshore support sector.
Following GoodFuels' completion of two deliveries of sustainable bio-fuel oil in the shipping sector in tandem with Danish bulk carrier Norden and French container line CMA-CGM, this offshore project represents a new market opportunity for sustainable marine fuel.
Under this project, GoodFuel will deliver 'drop-in' biofuel oil to Jumbo's offshore vessel Fairplayer, ahead of its departure to the North Sea.
Wout Janssens, director of operations and engineering at Jumbo, said: "Jumbo has been developing pioneering solutions for ocean transportation for more than 50 years with sustainable innovation being one of our top priorities. We are, therefore, keen to work together with GoodFuels on this project. By testing the bio-fuel oil, we are taking a major step towards a sustainably powered fleet."
Dirk Kronemeijer, CEO and founder at GoodFuels, added: "Together with our new partner, we continue to fulfill our mission as accelerators of the energy transition: by now making strides in the offshore market, as we have already achieved in the shipping industry."
It is worth noting that the second-generation bio-fuel oil is completely derived from forest residues and waste oil products. It is expected to deliver 80-90% well-to-propeller CO2 reduction versus fossil equivalents and contains no sulfur oxide (SOx) emissions – all without any requirement for engine modifications.
It is worth reminding that Dutch dredging company Boskalis also opted to use biofuel instead of LNG to power its fleet of vessels as the company was looking to reduce emissions.
Related news
List of related news articles