K Line Trials Binary Cycle Power Generation System on Newbuild Coal Carrier
Japanese shipping company Kawasaki Kisen Kaisha (K Line) has welcomed into the fleet a newbuilding coal carrier from its Corona series named Corona Youthful.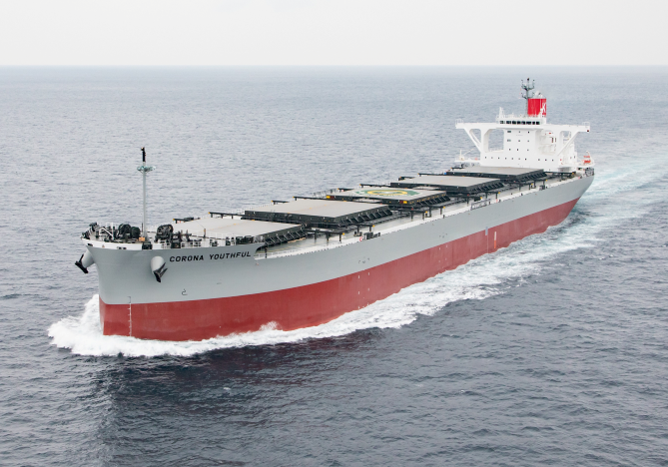 The 91,000 dwt vessel was built by Oshima Shipbuilding Co. and been fitted with a binary cycle power generation system developed by Oshima's Kobe Steel. The ship has now launched operational trial of the system to confirm its performance and durability at sea as part of a joint research between Kobe Steel and K Line.
The research is part of the shipping company's efforts to increase efficiency in its operations as well as cut CO2 emissions and environmental pollutants in accordance with its Environmental Vision 2050.
Binary cycle power generation system is a waste heat recovery electric power generation system utilizing compression heat by scavenging air from the main engine, which, in turn, contributes to reduction in fuel oil consumption of diesel generator engine.
"This innovative binary cycle power generation system is considered as one of the  efficient systems to help us achieve our goals by 2050," the company said.
Corona Youthful pertains to K Line's specialized fleet for transport of thermal coal, equipped with wide beam and shallow draft, which are the most suitable type to enter ports of Japanese thermal power stations to discharge cargo.
The vessel is also fitted with advanced flipper fins and rudder bulb to boost the ship's propeller efficiency as well as ballast water management system.
With this new latest deployment, the Corona-series now consists of 20 carriers.
During the first nine months of the fiscal year ending March 31, 2019,  K Line reported operating revenues of JPY 638.498 billion, down JPY 245.568 billion year-on-year.
Loss attributable to owners of the parent was JPY 30.953 billion, compared to profit of JPY 9.295 billion in the same period of the previous fiscal year.
K Line expects its energy transportation business  to secure the stable profit, however challenges faced by its joint venture Ocean Network Express (ONE) are expected to keep the current fiscal year's result in the red.