K Line's 1st LNG-powered car carrier set for delivery this year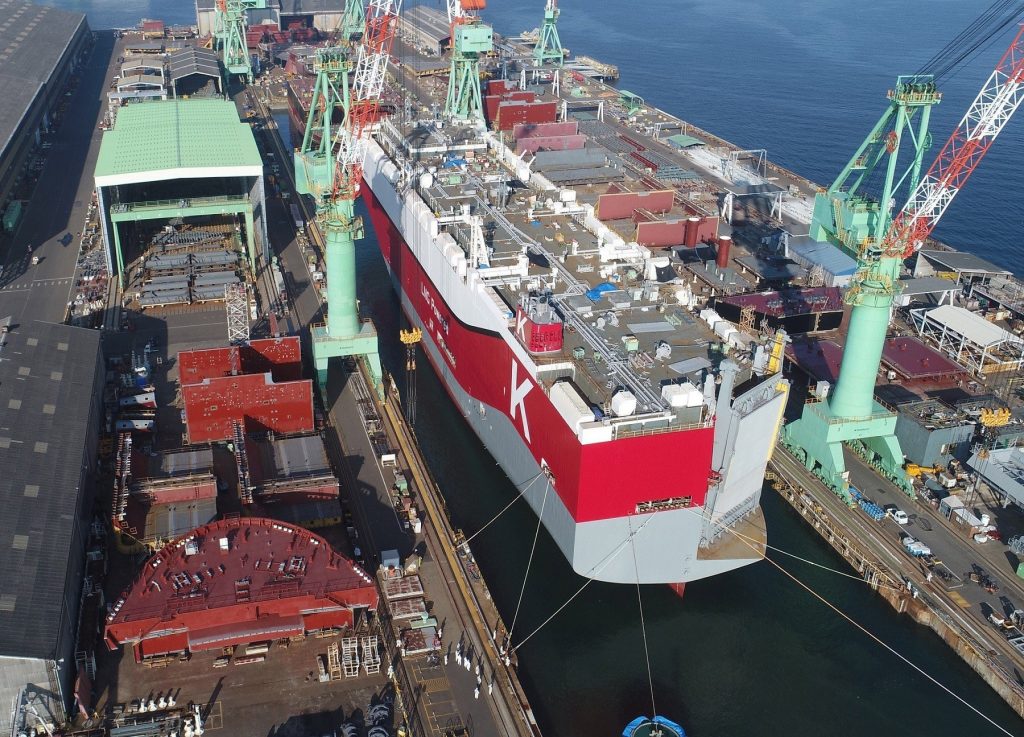 Japanese shipping major Kawasaki Kisen Kaisha (K Line) expects its first LNG-powered vessel to be delivered this year as the company increases focus on utilizing LNG as fuel.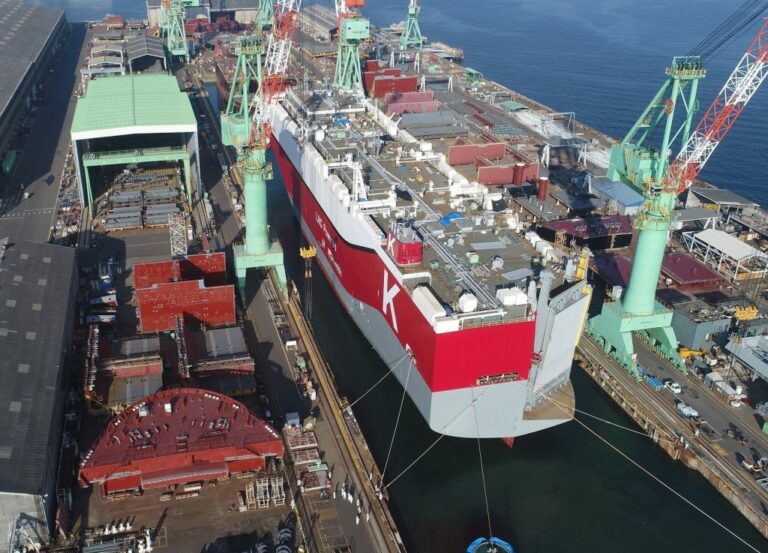 The LNG-fuelled car carrier was launched at Tadotsu Shipyard, part of Imabari Shipbuilding Group, in July 2020, shortly after receiving its LNG tanks.
The 73,800 GT ship was ordered by the Japanese shipping company in 2018 as a next-generation car carrier with a reduced environmental footprint.
The car carrier features a dual-fuel diesel engine ME-GI with an exhaust gas recirculation system (EGR) to apply with NOx Tier III. Auxiliary engines are also dual-fuel diesel engines that conform to NOx Tier III in gas mode.
The ship will be bunkered by Kaguya, a 3,500-cbm LNG bunkering vessel, owned by Central LNG Marine Fuel Japan.
The company is a joint venture company of K Line, JERA, Toyota Tsusho Corporation, and Nippon Yusen Kabushiki Kaisha (NYK).
Kaguya was constructed by Kawasaki Heavy Industries and delivered in September 2020 as Japan's first LNG bunkering vessel.
K Line is also working on the practical implementation of the Seawing kite system, Yukikazu Myochin, President & CEO at K Line, said.
The Seawing kite system converts wind energy into propulsive force with its flying kite, and it was developed by Airseas, a spin-off of aerospace company Airbus. The system is based on parafoil technology that tows commercial ships, and can cut more than 20% of fuel consumption and CO2 emissions, according to its developer.
K Line and Airseas signed a major deal in 2019, which stipulates installation and service of the system on board one of K Line's bulkers.
The first installation on a Capsize ship, most probably sailing between Japan and Australia, is planned for this year after which demonstration tests will ensue, aimed at proving that the promised 20 percent savings can be achieved on the said route.
The tests will be one of the most important factors for K Line before the company commits to install the automated 1000 sqm kites on up to 50 more ships.
"Furthermore, research on next-generation fuels is also being conducted through a companywide project with the aim of halving the total amount of greenhouse gas emissions as targeted for 2050," K Line's President added.
K Line's business operation was impacted considerably by the outbreak of COVID-19 across the world crushing crude steel production in Japan and cutting vehicle exports. Hence, the firm's dry bulk and car carrier businesses were affected the most.
The company's ensuing damage control mission resulted in the fleet reduction of more than 20 vessels.
In the containership business, ONE reached cruising speed in its third year with synergies emerging and best practices being steadily realized.
This has enabled K Line to upgrade its earnings forecast for Q3.
The company now expects recurring profit to exceed JPY 40 billion in the quarter covering October to December 2020, and expects to exceed JPY60 billion for cumulative results for the third quarter of the current fiscal year under review.
"We will continue to endeavor toward stable management in the energy transportation and logistics/shortsea-coastal businesses, and ONE will continue flexible allocation of vessels according to demand in the containership business. Through such efforts, we aim to be profitable across all divisions in the second half of the fiscal year," Yukikazu said.
"COVID-19 has had a significant impact on the company's business. Meanwhile, we have been able to use the critical situation as an opportunity to fundamentally revise our business plan and make efforts to strengthen sustainability. Adversity presents us with the opportunity to change. The highly uncertain environment will continue, but we should remain responsive to change, and taking action toward the aim of being a group that contributes to the future."