KHI hands over LPG-fueled LPG/ammonia carrier to K Line
Japan's Kawasaki Heavy Industries (KHI) has delivered an 86,700 cbm liquefied petroleum gas (LPG) and ammonia (NH3) carrier powered by LPG to compatriot transportation company K Line.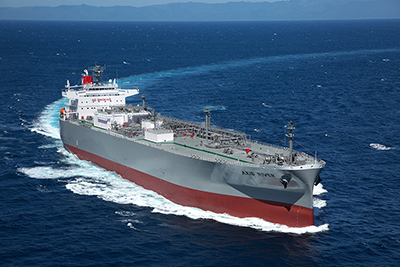 The vessel Axis River is the first of Kawasaki's newest-design 86,700 cbm capacity, LPG-fueled LPG/NH3 carrier, with the increased cargo capacity from the existing 84,000 cbm LPG Carrier as well as ammonia loading capability.
This latest LPG/NH3 carrier has a capability of simultaneous transportation of LPG, which is already widely used as a low-carbon-emission energy source, and ammonia.
Furthermore, this 230-meter long vessel is designed to increase cargo tank capacity, with keeping its principal dimensions like LOA and beam similar to conventional-type vessels so that the carrier can be berthed at major LPG terminals.
It is equipped with the Kawasaki-MAN B&W 6G60ME-C10.5-LGIP, a Kawasaki-made, electronically controlled, LPG-injection marine diesel engine. By using LPG, the company expects to significantly reduce sulfur oxide (SOx) and CO2 emissions in exhaust gases compared with ships running on conventional marine fuel oil, enabling compliance with SOx emission standards and EEDI phase 3 regulations.
Since January 2015, International Maritime Organization (IMO) SOx emission restrictions in North American and European ECAs have limited sulfur content in fuels to 0.1% or less. Starting in January 2020, regulations have required ships operating in all other parts of the world to use fuel with sulfur content levels of 0.5% or less, or alternatively use equipment to reduce SOx in exhaust gases to an equivalent level.
Moreover, the propulsion system is compliant with nitrogen oxide (NOx) Tier III requirements and utilizes EGR and SCR equipment. Thanks to this system, the vessel is able to travel in NOx emission control areas (ECAs) even when operating on conventional low-sulfur fuel, according to KHI.
Tier III regulations, which were enacted in 2016, specify controls for North American and European ECAs only, and stipulate an 80% NOx reduction over the Tier I value.
Fuel consumption amounts are reduced through the inclusion of the Kawasaki RBS-F (Rudder Bulb System with Fins), the Kawasaki SDS-F (Semi-Duct System with contra Fins), and energy-saving fins around the propeller.
The concept design for a system that utilizes ammonia as fuel on this vessel has been approved by classification society ClassNK. Therefore, it is possible to modify ship design specifications to enable the use of ammonia as fuel in the future.
The project is part of KHI's decarbonisation strategy, which encompasses the development of eco-friendly ship technologies with a focus on LPG carriers and LPG/NH3 carriers powered by LPG, and other types of vessels such as liquified hydrogen carriers..
As reported earlier, the company completed the technological development for a cargo containment system (CCS) to be used in large liquefied hydrogen carriers.
This project was carried out under the NEDO subsidy program 'Technology Development Project for Building a Hydrogen Society, Technology Development for Using Hydrogen Energy on a Large Scale, Development of Large-Scale Transport and Storage Equipment and Export and Import Terminal Equipment for Liquefied Hydrogen'.
Moving forward, Kawasaki will continue its work on the large liquefied hydrogen carriers for commercial operations, in line with a liquefied hydrogen supply chain commercialization demonstration project running through 2030.