Logistics company introduces LNG-fueled Volvo tractor truck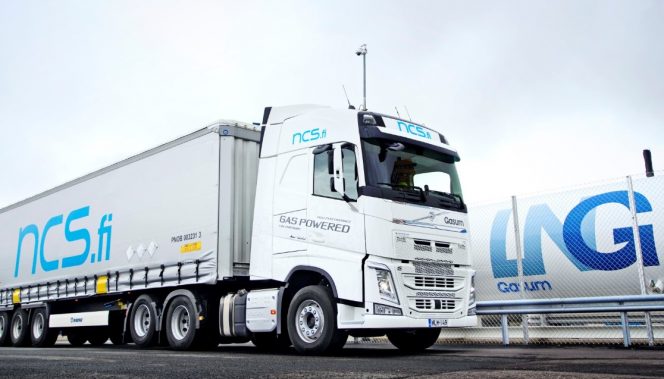 ---
Transport and logistics company NCS Finland, and its subcontractor Pinecape, has brought into use an LNG-fueled Volvo tractor truck unit.
Gasum said on Wednesday that Pinecape started using a Volvo FH LNG tractor unit for transport in July.
The use of LNG can reduce greenhouse gas emissions originating over the life cycle of the fuel by more than 20 percent compared with fossil diesel.
In addition, LNG makes it possible to switch to liquefied biogas (LBG) in the future, which is similar in composition to LNG, but which can be made from household biowaste, food waste from retail outlets and municipal sewage sludge.
The use of biogas in transport can reduce greenhouse gas emissions over the lifecycle of the fuel by up to 85 percent compared to diesel.
Jani Arala, senior sales manager of traffic at Gasum, said: "We're pleased that leading companies such as NCS Finland and Pinecape are using LNG to reduce carbon dioxide emissions. We're strategically building a network of gas filling stations in Finland and the other Nordic countries to make it easier for growing numbers of companies to switch to a low-emission fuel."
Like NCS Finland, the company's subcontractor Pinecape also addressed low-emission transport solutions. Harri Nummela, Logistics manager at Pinecape says that the low emissions and eco-friendliness of LNG were incentives for the decision.
Reino Manninen, sales director at Volvo Trucks, added: "In long-distance transport, you can drive as far as 1,000 kilometers on a tankful of natural gas and fuel costs are lower than for diesel. Nevertheless, there's no need to compromise whatsoever on performance and torsion in a Volvo FH LNG-fueled truck when compared to a similar diesel-fueled vehicle. Demand for LNG-fueled trucks is constantly growing."
Related news
List of related news articles