Maersk drillship arrives in Ghanaian waters ahead of Aker Energy campaign
Maersk Drilling-owned drillship Maersk Viking is nearly ready to start drilling an appraisal well offshore Ghana for Aker Energy, following the arrival in Ghanaian waters.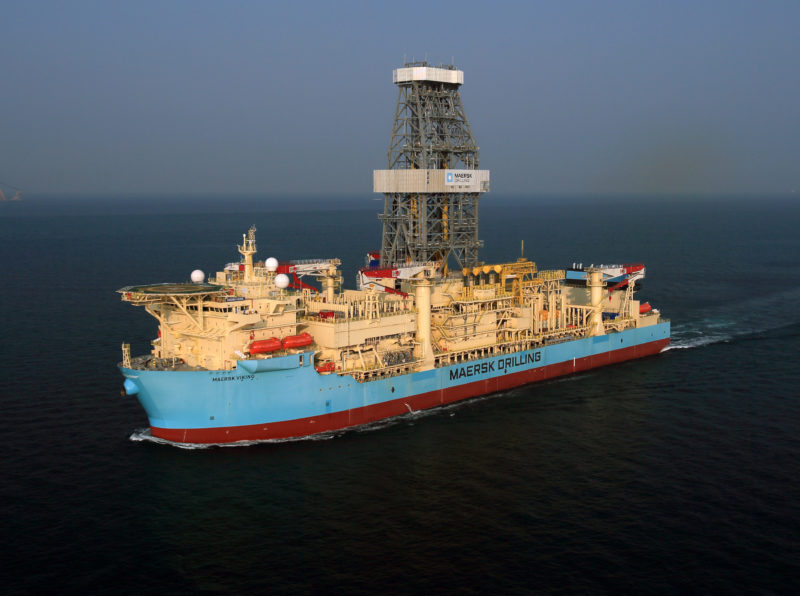 Maersk Drilling and Aker Energy signed a contract for the drillship Maersk Viking to drill the Pecan-4A appraisal well located in the Deepwater Tano Cape Three Points (DWT/CTP) block in late September.
On the same day Aker Energy also awarded contracts related to its drilling campaign in Ghana to PMD Viking Ghana Limited, Halliburton Ghana, and Exceed Well Management.
Aker Energy announced the arrival of the Maersk Viking drillship at the DWT/CTP block on Monday, October 22. The drilling is expected to start in the fourth quarter of 2018.
Aker Energy Country Manager, Jan Helge Skogen, said: "We are proud to announce the arrival of Maersk Viking in Ghanaian waters. The drillship arrival marks an important milestone towards the start of the upcoming drilling campaign. The Maersk Viking will commence drilling of the Pecan-4A appraisal well when all preparations have been completed."
Maersk Viking is capable of drilling in water depths of 3,600 meters. Under its contract with Aker Energy, the rig will perform the drilling of the Pecan-4A appraisal well in a water depth of 2,674 meters, located approx. 70 miles off the coast of Ghana, in addition to two optional wells.
The drilling rig is owned by Maersk Drilling and features a drillship design with a dual derrick and large subsea work and storage areas. With its advanced position control system, the ship automatically maintains a fixed position in severe weather conditions with waves up to 11 meters and wind speeds of up to 26 meters per second.
Aker Energy is the operator of the DWT/CTP block with a 50% participating interest. Aker Energy's partners are Lukoil (38%), the Ghana National Petroleum Corporation (GNPC) (10%) and Fueltrade (2%).
Aker Energy is targeting approximately 450 million barrels of oil equivalent (gross). The plan is to develop the Pecan field with a purpose-built FPSO connected to a subsea production system at 2,400 meters below sea level offshore Ghana.
The company plans to submit the Plan of Development (PoD) in 2018, with anticipated first oil in 2021 and a plateau production of ~125,000 barrels of oil per day.
Offshore Energy Today Staff