MAN ES' four-stroke engine project aims for 70% reduction in methane slip
German engine manufacturer MAN Energy Solutions (MAN ES) has revealed that it is developing an oxidation catalyst for four-stroke engines that will reduce methane slip by 70%.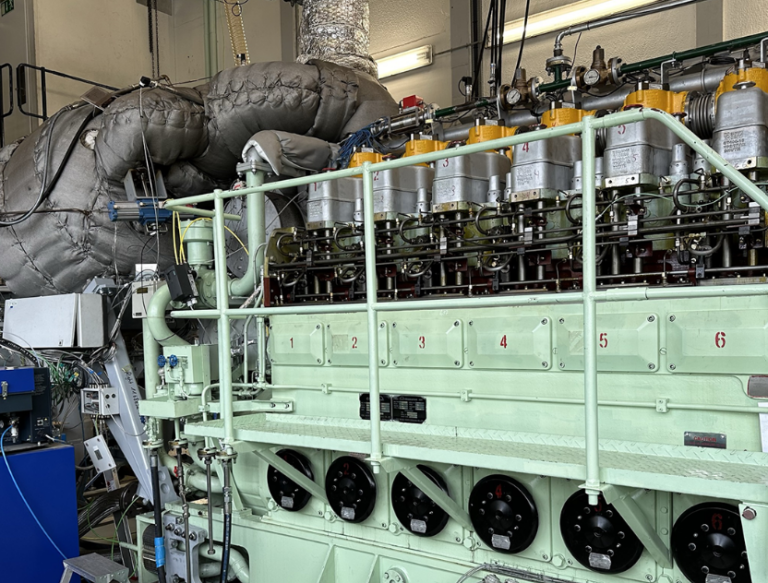 Called 'IMOKAT II' and developed at MAN Energy Solutions' headquarters in Augsburg, Germany, the research project is currently undergoing testing at the company's Frederikshavn, Denmark facility.
According to MAN ES, the new project will investigate the operational experience of a pre-turbo methane-oxidation catalyst, ultimately aiming for a 70% reduction of methane emissions at 100% load. The project is funded by the German Federal Ministry for Economics and Climate Action.
MAN Energy Solutions reports that pre-turbocharger integration of the catalyst is necessary because of the exhaust gas pressure and temperature level there. Integration is much more complex there compared to a post-turbocharger installation, as is found with selective catalytic reduction (SCR).
The catalyst material chosen without precious metals is sulphur-resistant, which is an important design consideration as – even during gas operation – pilot- and lube-oils contain traces of sulphur. It also means that it is possible to preheat the catalyst in diesel mode before switching to gas operation, where a cold catalyst would not be able to perform optimally and methane slip would occur.
"Part of the project involved studying different approaches to methane reduction. Previous attempts to use precious-metal catalysts have resulted in the catalyst elements themselves becoming significantly expensive. Additionally, due to poisoning, you either have to use a lot of such material or install additional technology to protect it. IMOKAT II is therefore not only more robust but also more economical and requires less installation space," Hans-Philipp Walther, Head of Exhaust Gas Aftertreatment, MAN ES, said.
"The greatest challenge to developing this catalyst is reaching the highest conversion rates since engine and catalyst must be optimised together. Another significant hurdle is optimising the dynamic behaviour of the engine with a catalyst applied, especially if the catalyst is cold. Therefore, a bypass flap and additional software functions will be necessary," Walther added.
Whereas the predecessor project, IMOKAT I, investigated different catalytic materials and uncovered a sulfur-resistant material without any precious metals that facilitated high methane conversion, IMOKAT II is a prototype and technology demonstrator.
In this context, it is currently investigating the material's potential on a test engine with the major goal of designing a catalyst solution that can be applied to a full-scale engine to reduce methane emissions in the field.
Field testing aboard a vessel is scheduled for the first quarter of 2024.
As part of its decarbonization agenda, MAN ES recently informed, that it partnered with industry leaders and research institutes to develop concepts for hydrogen-fueled medium-speed engines in the maritime sector.
The partnership will work on the project dubbed 'HydroPoLEn', which is also supported and funded by the German Federal Ministry for Economic Affairs and Climate Action.