MEA Present at Offshore Energy Exhibition & Conference with Marine Energy Pavilion
The Marine Energy Alliance will be present at the Offshore Energy Exhibition & Conference in Amsterdam in October, with a spot at the entrance of the exhibition floor for the Marine Energy pavilion.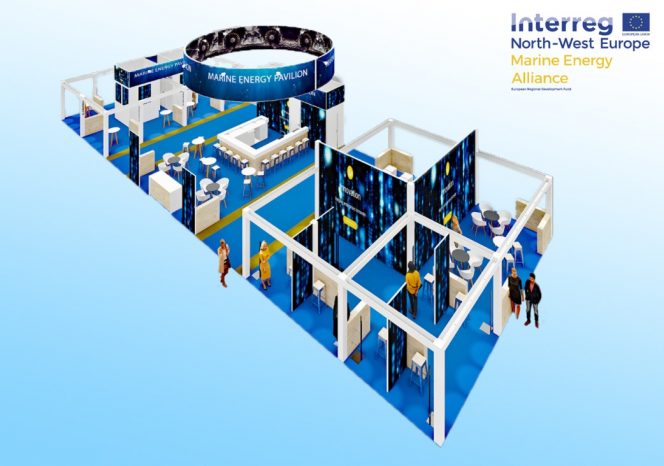 The Marine Energy Alliance aims to progress the technical and commercial maturity level of early-stage (TRL 3 – 4) marine energy technology companies with the overall goal of reducing the risk of device failure in subsequent demonstration phases. Recently 22 companies were selected and will receive service delivery from the MEA project partners. Some of these companies will pitch their technologies in the pitching area of the pavilion.
All project partners (Dutch Marine Energy Centre, The European Marine Energy Center, MaREI, Ecole Centrale de Nantes, Exceedance limited, INNOSEA SAS, Marine, Navingo BV and the University of Edinburgh) will be there to answer all your questions about the project.
Though marine energy has great potential, this industry is still in its infancy to the more settled oil & gas and offshore wind industries. To further develop it is seeking collaboration with companies who have already built up expertise in certain fields. This way it can build on lessons learned and leapfrog to new phases. This will offer great opportunities for offshore companies who want to co-create this sector.
For developers in marine energy, there will be new opportunities upcoming as the MEA project is seeking for new SME companies to support. A new call for support will start in January 2020.
Offshore Energy 2019
Home of the energy transition. Offshore Energy offers both an exhibition floor, home to 550 exhibitors as well as expecting 10.000 visitors. Next to that, there is an extensive conference covering Offshore Wind Conference, Marine Energy Event as well as six two-hour conference sessions dedicated to the energy transition. Head to offshore-energy.biz to register your free visit or to book you conference tickets. www.offshore-energy.biz.
Related news
List of related news articles