Mittal: Shipowners need to start locking in long-term supply of green fuels
In order to catch up with the ambitions of decarbonization targets for the maritime industry, shipowners are being encouraged to start proactively securing long-term contracts for green fuels from serious players as the availability of these fuels is likely to be restricted amid demand from other sectors.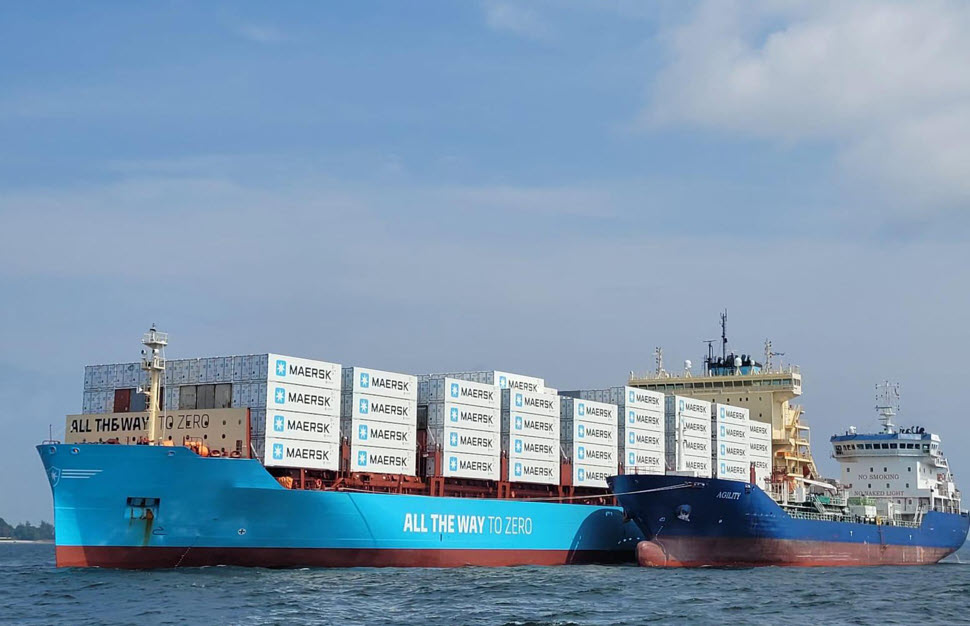 This call comes amid promising developments in the green fuel sector as countries around the world launch policies to facilitate the production of sustainable fuels.
Thirty countries worldwide have already unveiled roadmaps for green hydrogen. These nations have launched active projects to produce green hydrogen, setting the stage for a substantial shift in the energy landscape. India, in particular, is targeting the production of 5 million tons of green hydrogen, equivalent to roughly 30 million tons of ammonia or methanol, by the year 2030. Several projects in this regard have already begun.
Vineet Mittal, Chairman of the Avaada Group, shared significant insights into the current state of green fuel production and the role ship owners must play in the decarbonization journey while speaking on a panel on Wednesday during the launch of the Global Maritime Forum's new report titled Progress Toward Shipping's 2030 Breakthrough.
As explained, one encouraging aspect of the green fuel transition is the net-zero commitment from banks. This commitment has spurred an increase in support for green projects within the industry. However, Mittal acknowledged that pricing remains a significant challenge in the sector.
"The key is for ship owners to take the lead in locking the contracts for green methanol and green ammonia supply. That is what is lacking. There are many players who have started construction projects using non-recourse or recourse financing. Those molecules will not stay in the market for long," he said.
Mittal believes it is essential for serious industry players to reach out to entities that have secured initial investments, possess land, and are on the verge of signing IPC contracts.
Establishing long-term offtake agreements is critical for the sustainability of green fuel initiatives, he believes.
During a conversation with ship owners, Mittal noted that the industry's fear revolves around squeezing projects too tightly, particularly concerning pricing. Reports have suggested that hydrogen production should be economically viable at a cost of $1.50 to $2.00 per kilogram by 2025. Mittal expressed the view that such targets are impractical for the industry's initial stages.
The essential element, he stressed, is to arrive at a reasonable pricing structure that benefits both ship operators and consumers while ensuring the sustainability of green ammonia and green methanol production. Long-term contracts are necessary for creating stability in the sector.
One of the challenges facing the industry is the lack of a consistent definition of green methanol and green ammonia. Differing interpretations of what qualifies as "green" create obstacles for producers and consumers alike. The need for a uniform, worldwide definition is evident to avoid confusion and promote consistent standards.
Mittal also emphasized the importance of pragmatism, particularly concerning the source of biomass for large-scale green fuel production. Instead of setting stringent regulations, policies should reflect real-world capabilities and the scalable nature of available technologies.
"The same applies to hydrogen and methanol. Some of the European buyers are very ambitious. They're saying: do biogenics from day one. So if you have 30,000 ships and 25,000 tons per ship requirement a year, you are looking at a huge quantity, and where are you going to get so much biomass?" Mittal asked, adding that it is crucial to remain pragmatic and realistic in welcoming clean hydrogen from renewable sources, including that produced with carbon capture technologies.
"There is a policy constraint that says it will be acceptable until 2041. Therefore, when you are building these projects you are pricing the green methodology cheaper today because you are looking at amortizing the cost at 30 years 40 years," he noted.
As highlighted, the policies by regulatory bodies have to look at the reality of life, scalability, and availability of technology, and refrain from putting stringent norms today, thus preventing technologies from scaling up and decarbonization targets turning into reality.
In conclusion, the opportunity for green fuels in the shipping industry is vast. Multiple players are capable of producing these fuels competitively. The industry's success lies in establishing a clear definition for "green" fuels, a consistent standard globally, and a willingness to pay a reasonable premium. This premium, rather than exorbitant pricing, can propel the sector toward a sustainable and greener future.
"There are enough players to produce these green fuels competitively. The key is to have a real definition of what will be treated green and have a consistent definition worldwide," Mittel noted, adding that some reasonable premium for green fuels should be in place, but not double or triple the amount the industry pays now.
"Giving a 15 to 20% premium over gray fuels plus ETS prize is normal to kick off this industry," he concluded.