Nauticor's Kairos supplies LNG to Furetank's Fure Valö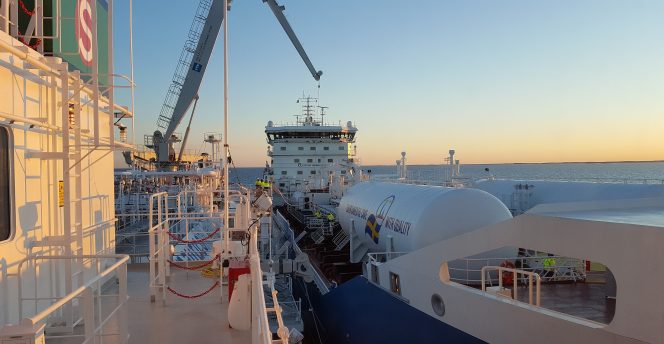 ---
Hamburg-based Nauticor, a unit of Linde, said it has commenced supply of LNG by ship to the Gothia Tanker Alliance with a bunker operation for the LNG-fuelled product tanker Fure Valö.
On April 15, the world's largest bunker supply vessel (BSV) for liquefied natural gas (LNG) Kairos provided LNG in a ship-to-ship bunker operation to Fure Valö, a vessel of the tanker pool managed by the Gothia Tanker Alliance.
Fure Valo received LNG at the anchorage area of Sandhamn, near the Swedish capital of Stockholm.
The bunker operation was the first offshore ship-to-ship operation that was conducted by the 117-meter long Kairos, Nauticor said.
The bunker operation was conducted under an agreement for the supply of LNG, which was signed at the end of 2018 by Furetank Rederi, a member of the Gothia Tanker Alliance, and Nauticor.
The agreement covers the supply of LNG from the BSV Kairos to the LNG-fuelled product tankers, which are owned and operated by members of the Gothia Tanker Alliance, including the retrofitted product tanker Fure West and six newbuild vessels, one of them being Fure Valö.
With a tank capacity of 7,500-cbm, Nauticor's new vessel Kairos is the world's largest LNG bunker supply vessel.
Nauticor chartered Kairos via the joint venture Blue LNG from the owner Babcock Schulte Energy, where Nauticor has a 90 percent share and Lithuanian energy infrastructure provider KN (Klaipedos Nafta) has a 10 percent share.
Related news
List of related news articles