New investors enter Acorn carbon capture and storage project
Pale Blue Dot, the lead developer of the Acorn Carbon Capture and Storage (CCS) project, has conducted a corporate restructuring following a strategic investment by multinational independent investment bank and financial services company Macquarie Group.
Pale Blue Dot said on Thursday that the corporate restructure would see Storegga Geotechnologies become the new holding company for the Scottish-based business.
Macquarie Group's Commodities and Global Markets business become a cornerstone investor in Storegga to assist Pale Blue Dot's drive towards its low carbon energy ambitions.
According to the company, the investment in Storegga will catalyse the creation of a new, independent, UK based low carbon technology business.
Pale Blue Dot leads the development of Acorn, one of the UK's first carbon capture and storage projects. Acorn is on track to be storing CO2 by 2024.
The company is also working on a parallel programme which will see hydrogen introduced into the UK's gas supplies to cut carbon emissions from homes and industry by 2025.
The new board of Storegga will comprise Pale Blue Dot directors, Alan James and Steve Murphy, as well as Nick Cooper, Alan Booth, and Jon Taylor of Storegga. Macquarie Group will also have two Board seats in the newly configured enterprise.
Alan James, managing director of Pale Blue Dot Energy and Storegga, said: "Industrially viable carbon reduction projects are a critical part of our future, especially as we look towards a sustainable recovery post-COVID.
"The team at Pale Blue Dot Energy are fully committed to making positive change across our industry and energy sectors and now with our new corporate structure and strategic support of Macquarie Group we are able to accelerate the progress that Scotland and the UK needs to make".
Nick Cooper, chief executive of Storegga, added: "We are excited to be joining the Pale Blue Dot team, that has so successfully and tenaciously progressed the Acorn CCS and Hydrogen projects to the point where they are now recognised as vital to the future decarbonisation infrastructure for Scotland and the UK.
"Storegga has been established to become a long term, independent UK champion of CCS, Hydrogen and other low carbon transition technologies; our strategic partnership with the Macquarie Group provides significant additional capabilities and the financial strength to realise these ambitions".
Erik Petersson, senior managing director in Macquarie, stated: "CCS and hydrogen are expected to play a key contribution in the UK's energy transition. This investment and support for the Acorn CCS project is consistent with our longstanding commitment and expertise in the energy infrastructure and clean technology sectors".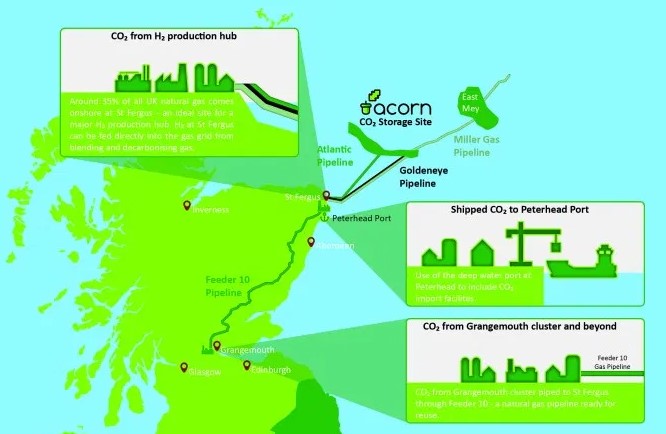 In recent company news, Petrofac's Engineering and Production Services (EPS) business was awarded an engineering and project management office support contract for the Acorn project in the UK.
As for the project, Acorn CCS holds the first UK CO2 appraisal and storage licence awarded by the Oil and Gas Authority and is looking to establish CO2 mitigation infrastructure essential for meeting the Scottish and UK Government Net Zero targets.
Through the Acorn Hydrogen project, North Sea natural gas would be reformed into clean hydrogen, with CO2 emissions safely mitigated through the Acorn CCS infrastructure.
Hydrogen would be used in transport applications, and in the gas grid to decarbonise heating in homes and industries.
Related news
List of related news articles