Norled Picks Westcon to Build World's 1st Hydrogen Ferry
Norwegian ferry company Norled and its compatriot shipyard Westcon have signed a contract for the construction of two new environmentally-friendly ferries.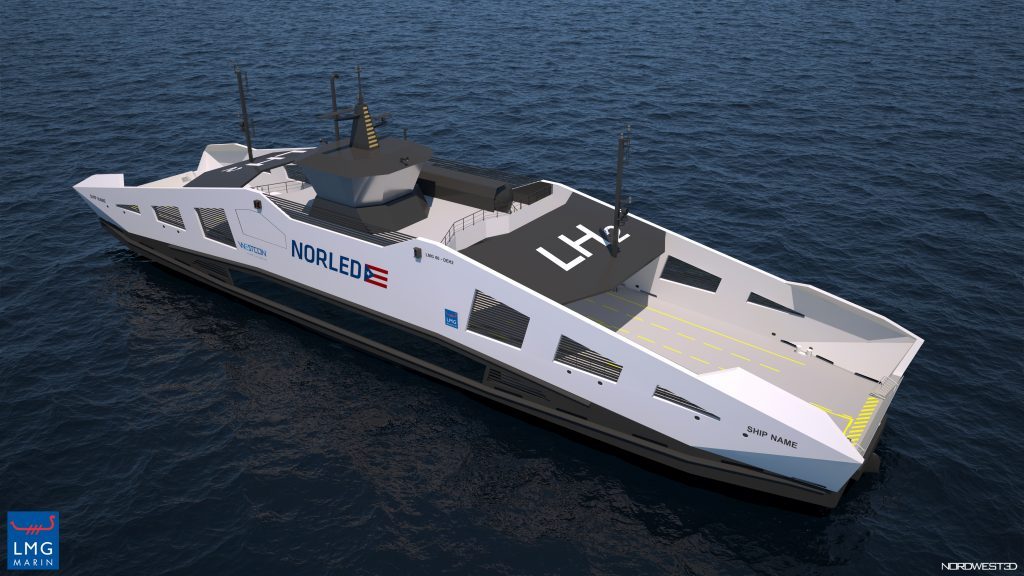 As informed, one of the ships will be the world's first car ferry sailing on hydrogen and the other a battery-powered ferry similar to MF Ampere.
"We believe this construction project will contribute to the Norwegian maritime sector as a whole being at the forefront of hydrogen-powered ferries," Sigvald Breivik, Technical Director of Norled, commented.
The newbuilds will both operate on the Hjelmeland – Skipavik – Nesvik route in Ryfylket from spring 2021. They will have a capacity of 299 passengers and 80 cars.
Norled and Westcon have not disclosed the value of the shipbuilding contract.
In January 2019, Norled and the Norwegian Public Roads Administration signed an agreement for the world's first hydrogen-electric ferry after Norled won the development contract in competition with Fjord 1 and Boreal. The contract includes the development, construction and operation of the vessel where at least 50 percent of the energy requirement is covered by hydrogen.
"Since we signed the contract with the Norwegian Public Roads Administration in January to build and operate a completely new type of zero-emission holiday based on using hydrogen as fuel, the interest has been great from both home and abroad," Breivik added.
Back in 2015, Norled launched the world's first battery-powered car and passenger ferry, MF Ampere.
"Ampere has in many ways become an icon of the green revolution of the ferry industry. In 2022, more than 70 Norwegian ferries will sail on battery and contribute significantly to climate and environmental emissions," Breivik said.
"Our ambition is that the upcoming hydrogen ferry will become a new icon that will put Norway on the map to an even greater extent in maritime zero emission technology and where the project will demonstrate that hydrogen can be used on energy-intensive connections where battery technology falls short," he explained.
According to Norled, the advantage of hydrogen as a zero-emission fuel is that it is better suited to supply larger amounts of energy to the ferry propulsion systems, and this feature can be used to increase sailing distance or to have high speed, such as on speed boats.
The soon-to-be-built Norwegian hydrogen-powered vessel is one of two new ships that are part of the European innovation project Flagships. Recently, the EU granted EUR 5 million (USD 5.6 million) to Flagships to support deploying two zero-emission hydrogen fuel cell vessels in Norway and France. The second vessel will be operated by Compagnie Fluvial de Transport (CFT) in France and serve as a utility vessel on one of the country's most demanding rivers, the Rhône.