Northern Lights, Yara seal binding CO2 transport and storage deal
Norwegian-based ammonia player Yara International has signed a binding commercial agreement with Northern Lights, a CO2 transport and storage supplying JV created by energy majors Shell, Equinor, and TotalEnergies, which is expected to pave the way for the world's first cross-border transportation and storage of CO2.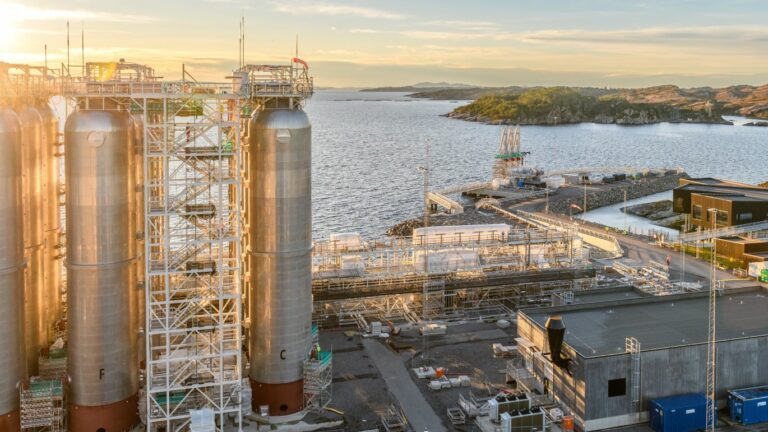 The signing of the binding contract comes on the back of an initial deal inked in August 2022 when the duo agreed on the main commercial terms of the project. However, over the recent period, the two companies have been fine-tuning the details of the contract such as risk sharing, technical matters such as CO2 composition, as well as future-proofing the deal in line with the complex EU regulatory system.
The process was rather challenging as this is the first deal of its kind in the nascent CO2 transport and storage industry.
As announced earlier, Yara plans to capture CO2 emissions from its Yara Sluiskil ammonia production facility. The planned amount of 800,000 CO2 tons is set to be liquified and shipped by Northern Lights from the Netherlands to permanent storage on the Norwegian continental shelf, 2.6 kilometers under the seabed.
The liquefied CO2 will initially be stored in onshore tanks at Øygarden, prior to injection into an offshore saline aquifer via pipeline for permanent and safe storage, 2,600 meters below the seabed
Operations are scheduled to start in 2025 and continue for 15 years.
"This is a milestone for decarbonizing hard-to-abate industry in Europe and for Yara it's an important step towards decarbonizing our ammonia production, product lines and the food value chain at large," says Svein Tore Holsether, CEO of Yara International.
"We are very pleased that Yara has selected Northern Lights as CO2 transport and storage provider. This commercial agreement gives us the opportunity to further utilize the capacity at our storage site below the North Sea. It confirms the commercial potential for CCS and demonstrates that the market for transport and storage of CO2 is evolving rapidly," says Børre Jacobsen, Managing Director of Northern Lights.
"Clean ammonia can decarbonize hard-to-abate sectors like shipping, chemical production, and power production. It will enable the hydrogen economy, and the time to start using clean ammonia and hydrogen to decarbonize Europe is now," says Magnus Ankarstrand, President of Yara Clean Ammonia.
The agreement between Yara and Northern Lights is expected to kickstart the commercial market for CCS in Europe, as CCUS grows in importance as a decarbonization solution aimed at helping the industry meet the UN emission reduction targets.
Nevertheless, early movers in the market have to face multiple challenges from various fronts, including regulatory frameworks, commercial aspects, and financing as well as environmental and technical feasibility including figuring out the best way to prove to emitters that CO2 has been captured.
There is a growing commitment to CCS projects among investors and stakeholders, but the industry is still in its early stages, with a lot of uncertainties like carbon price, risk sharing, and interdependency risks posing significant challenges.
Therefore, European industries are eagerly awaiting the EU's CCUS strategy, to be announced early next year.
"To succeed with the green transition, we need strong partnerships and support from governments and the EU. CCS is an important part of the solution. Together we can significantly reduce GHG emissions and take us further step closer to transform industry and reduce emissions," says Holsether, CEO Yara International.
"Norway has the potential to provide Europe with significant CO2 storage, which will help the EU to reach their climate targets. It is a safe and efficient way to handle emissions and this agreement demonstrate that," says Børre Jacobsen, Managing Director of Northern Lights.
Yara Sluiskil is one of the world's largest ammonia and mineral fertilizer plants. Since 1990 the facility has cut 3.4 million tons of CO2 equivalents per year from its ammonia and fertilizer production, according to the company.
The company said that the amount corresponds to 0.5% of the total annual emissions (2022) in the Netherlands. Over the next 15 years, Yara plans to remove approximately 12 million tons of CO2 from its production in Sluiskil.
Yara Sluiskil is planning to expand its CO2 liquification capacity to liquify 12 million tons of CO2 over the next 15 years with an estimated capex of approximately EUR 200 million.
In addition, earlier this year Northern Lights JV and Ørsted signed a CO2 Transport and Services Agreement (TSA) to store 430,000 tonnes biogenic CO2 emissions per year from two power plants in Denmark.
Furthermore, Yara is looking into potential large-scale blue ammonia production projects with CCS in the US as it looks at ways to profitably decarbonize its premium product operations in Europe while also diversifying its energy position. To allocate capital to this transition, Yara is considering a number of options including a minority divestment of YCA, asset divestments, and other available funding sources.
Northern Lights has ordered three LNG-powered, wind-assisted CO2 carriers at China's Dalian Shipbuilding Offshore Co for its CO2 transport and storage operations.
The project comprises the development of a receiving terminal, underwater infrastructure (including the pipeline, subs installations, and wells), intermediate storage tanks, and onshore facilities.
The receiving terminal, the point where CO2 will be received from incoming ships, is in the commissioning phase, with 95% completion, and it is anticipated to be in full operational readiness next year.