Norway continues license processing for 1.4 GW link to UK after almost three years
Norway's Ministry of Petroleum and Energy has decided to resume the license processing of the application for the development of a 1.4 GW overseas interconnector between Norway and the UK after the processing was put on hold back in 2020.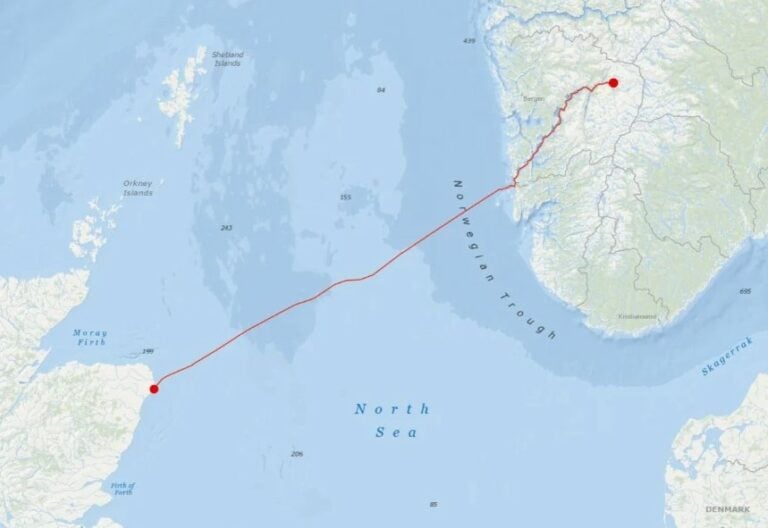 In a letter dated 25 March 2020, the Norwegian ministry informed that there was no sufficient basis for making a decision in the case of the NorthConnect link and the license processing was put on hold.
The processing is now being taken up again, targeting a quick decision.
"Almost three years have passed since the processing of this case was put on hold. I have come to the conclusion that there is now a sufficient basis for the case to be processed. All license applications lodged with the ministry must of course be processed in a proper manner. We are starting to do that now," said Terje Aasland, the Norwegian Minister of Petroleum and Energy.
The Ministry of Petroleum and Energy has sent a letter to NorthConnect Limited and requested that any new information or other input that may be relevant for processing the case be sent by 24 February.
"In 2018, the Labor Party ensured that the application for the development of NorthConnect was temporarily shelved, partly because we wanted to know more about the effects on the Norwegian power system of increased exchange capacity. The reason we are resuming treatment is that we now have a better knowledge base to assess the impact on the power system of increased exchange capacity," Aasland said.
NorthConnect is a joint venture between the Scandinavian companies Lyse, Agder Energi, Hafslund E-Co and Vattenfall. In passing the Third Energy Package into law, the Norwegian Parliament also determined that Statnett should have a controlling interest in the operation of the Norwegian half of the interconnector and discussions are currently ongoing.
On the UK side of the link, the subsea cable will come to land in Scotland, near Long Haven Bay, and connect to a converter station at Fourfields near Boddam. The cables will cross the North Sea to Norway.
Similar infrastructure is proposed at the Norwegian landfall at Sima at the end of Hardangerfjord, with a converter station in Simadalen.
UK energy market regulator Ofgem reported at the end of 2022 that it had withdrawn the cap and floor regime awarded in principle for the 1.4 GW interconnector due to the project having encountered "significant delays".