NYK trials biofuel on bulker in Singapore
A bulk carrier operated by Japanese shipping major NYK recently conducted a trial use of biofuel made from waste cooking oil collected and refined in Singapore.
The trial ship-to-ship (STS) bunkering for the bulker Frontier Jacaranda was performed at the Port of Singapore on 11 June 2021, in cooperation with mining company Anglo American and biofuel supplier Toyota Tsusho.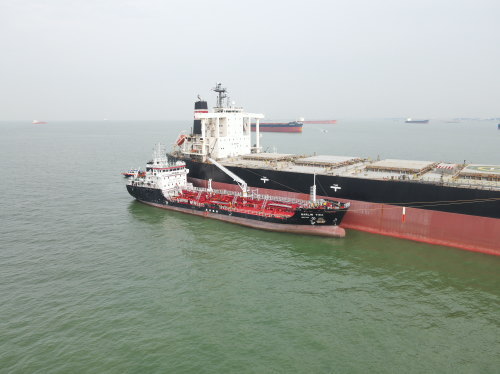 "This was the first attempt in the marine fuel industry to supply biofuel to Japanese companies' oceangoing vessels in Singapore," Toyota Tsusho said.
Specifically, the biofuel supplied to Frontier Jacaranda was derived from waste cooking oil in Singapore, and this initiative contributes to the circular economy while creating a supply chain that is close to domestic production. The establishment of the procurement and regular use of biofuel, which are expected to reduce greenhouse gas emissions at the Port of Singapore, the world's largest marine fuel market, will help to shift towards a carbon-free society, according to Toyota Tsusho.
In October 2020, the Toyota Tsusho Group began supplying liquefied natural gas fuel (LNG) to ships using STS bunkering for the first time in Japan, and has been focusing on efforts to switch to alternative fuels for ships, such as the first trial of biofuel operation by a marine fuel supply ship in Singapore since April 2021.
Separately, NYK said this was the second biofuel trial performed, following the one conducted by NYK bulk carrier Frontier Sky in Rotterdam port in 2019.
NYK is looking to contribute to the decarbonization of the shipping industry by accelerating the conversion of ships to alternative fuels through a series of biofuel trials at the Port of Singapore, the world's largest refueling hub.
In February, NYK released the NYK Group ESG Story, which aims to further integrate ESG into the company's management strategy and promotes activities that contribute to the achievement of the SDGs through business activities. The group's business strategy includes the introduction of next-generation fuels, such as biofuel, which has a low environmental impact.