NZOG, Beach surrender deepwater permit off New Zealand
NZOG and Beach Energy, joint venture owners of the New Zealand exploration permit which holds the Barque gas prospect, have applied to relinquish the deepwater block.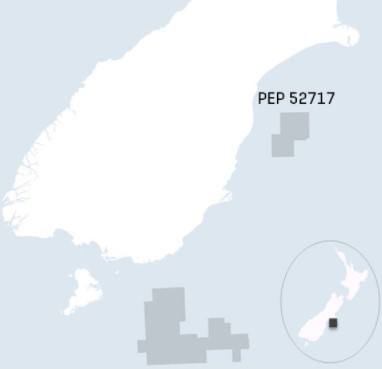 New Zealand Oil & Gas (NZOG) and partner Beach Energy said on Tuesday that they applied to relinquish the deepwater Petroleum Exploration Permit (PEP) 52717 otherwise known as Clipper.
Chief executive of NZOG Andrew Jefferies said: "It is with great regret that the joint venture relinquishes this permit after years of work to mature it and bring in appropriate partners. I expect it will not be the last offshore acreage to suffer the same fate.
"NZOG believes a confluence of events including adverse regulatory settings for offshore exploration, the dry hole at OMV's Tawhaki permit, the recent announcement terminating Wherry-1 drilling, and the effects of COVID on drill rig costs and availability have formed a perfect storm, making the task of finding suitable partners in the required timeline impossible.
"Both NZOG and Beach Energy remain committed to New Zealand through production at the Kupe gas field in South Taranaki, which remains a key supplier to the country's energy needs.
"At Kupe, we are halfway through a major compression project to maintain production from our large offshore production permit that has both development and near field exploration potential".
The Clipper permit is located in the Canterbury Basin, about 40 kilometres east of the South Island. It is operated by NZOG with Beach Energy as the partner. Both companies hold a 50 per cent stake.
In a separate statement, Petroleum Exploration and Production Association of New Zealand (PEPANZ) stated that the surrender of another offshore exploration permit was "a blow to New Zealand's energy security and potential wellbeing".
"This is disappointing news given the enormous potential benefits from the Barque prospect", PEPANZ chief executive John Carnegie said.
A 2017 report by MartinJenkins found this field could have earned $32 billion in royalties and taxes over its lifespan. Construction alone could have created 5,700 jobs per year and add $7.1 billion to New Zealand's GDP.
It could also have helped lower emissions here in New Zealand and around the world by replacing coal for industrial use and electricity generation.
According to PEPANZ, the offshore area available for exploration has now shrunk by over 80% since April 2018.
It is worth noting that this was the second permit in New Zealand's deepwater to suffer the same fate in less than a month – and both involved Beach Energy.
Beach, along with its partners OGOG and Discover exploration, decided to drop plans regarding the drilling of the Wherry prospect and surrender the permit holding it as it "no longer meets the risk profile" of the JV.
The permit was acquired by Beach in 2018, along with the acquisition of New Zealand assets from Origin Energy. Stage 3 permit commitments required the drilling of one exploration well before 7 October 2021.