Offshore Energy Awards Winners Unveiled
Offshore Energy Awards winners have been revealed during the Gala Dinner held on Monday in front of 400+ attendees at the National Maritime Museum (Scheepvaartmuseum) in Amsterdam, the Netherlands.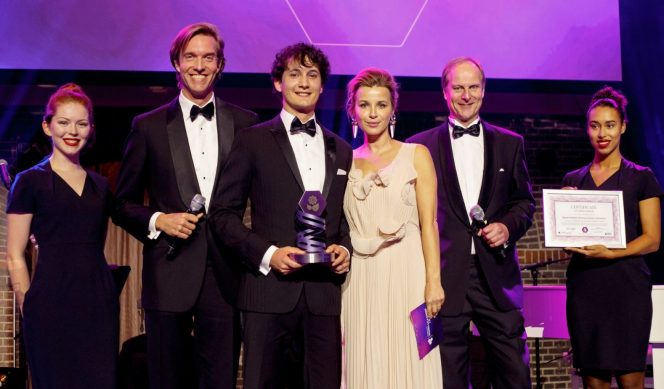 The ceremony, hosted by Viktoria Koblenko, was officially opened by Shell executive vice president, Bart van de Leemput and managing director of Navingo, Coert van Zijll Langhout, and represents the official opening of the 11th edition of Offshore Energy Exhibition & Conference.
During the ceremony the winners in three categories were announced, the winner of Best Innovation in Offshore Energy Award, the winner of Offshore Energy Public Outreach Award and the winner of the Offshore Energy Young Engineer Award.
The winners of the 2018 Offshore Energy Awards are:
Winner Best Innovation in Offshore Energy Award
(Presented by Joop Roodenburg, CEO, Huisman)
OASYS by ECE Offshore
This innovation is about improved monitoring of power cables during installation in wind farms. The industry has been confronted with various cable faults during the installation of power cables and this has resulted in high unexpected costs. ECE Offshore has provided a solution for reducing the risk of faults during cable installation, the OASYS cable monitoring system, a device which is connected to the installation vessel. The working principle of the device is based on sonar technology. With the specific software developed for this application, the system is able to provide real-time cable integrity data for departure angle, sagbend radius, top tension, and bottom tension. The system has been applied in more than 90 cable monitoring operations. The overall result has been less failures during power cable installation compared to traditional way of monitoring.
Winner Offshore Energy Public Outreach Award
(Presented by Robert Plat, principal offshore consultant, Royal IHC and Bernard Alblas, chairman, Young IRO)
Buccaneer Delft
Although it proves a challenge for all applicants to reach a broad public, the Buccaneer is making a great effort by its monthly networking events, where information is shared and discussions take place on a variety of topics, mostly focusing on innovation and the energy transition. The Buccaneer becomes more and more a center for innovative knowledge and a meeting point for the young and established parties in the energy sector. The Buccaneer is supporting the young generation, who can have a great impact on the energy transition, to boost their start-ups by offering a space and creating an environment of sharing experiences and ideas.
Winner Offshore Energy Young Engineer Award
(Presented by Didi te Gussinklo Ohmann, operations director, Van Oord Offshore Wind)
Marius Ottolini – Installation Engineer at Heerema Marine Contractors
Marius received his award for being one of the big drivers within Heerema in the development of silent foundations, with the aim to reduce or eliminate piling noise. Such noise can affect the marine environment to a substantial degree. He has developed several alternatives which are a step change in foundation design, in particular because the foundation can be installed silently and it can be completely removed after it has reached its end of life.
Offshore Energy Opening Gala Dinner and Awards show will be back in 2019 for the fourth edition which will be held on October 07, 2019.
Source: Navingo