Oldendorff Carriers picks Yara Marine scrubbers for Capesize newbuilds
Germany's dry bulk carrier owner and operator Oldendorff Carriers has ordered U-type scrubbers for two newbuild Capesize vessels from Norwegian green technology company Yara Marine Technologies.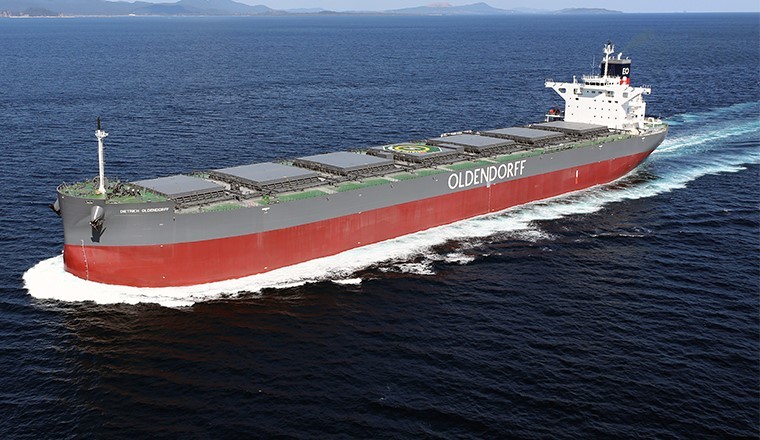 On 6 April, Torsten Barenthin, Oldendorff Carriers' Director of Innovation, and Aleksander Askeland, Yara Marine Technologies' (YMT) Chief Sales Officer, have signed an agreement for the first installation of YMT's new U-type SOx scrubbers on board two bulk carriers at the Nor-Shipping conference and exhibition in Oslo.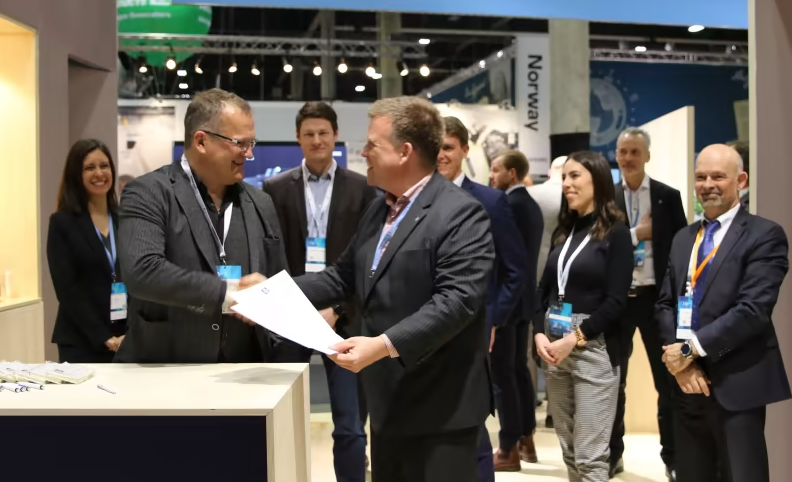 This follows in the footsteps of previous contracts that have seen YMT install scrubbers and perform MARPOL compliance testing on 96 Oldendorff vessels.
"We are pleased to further strengthen our collaboration with Yara Marine Technologies, which began in February 2018. Equipping over 90 vessels with SOx scrubbers in less than two years was an enormously challenging project and we have been extremely satisfied with the results – allowing us close to 99% uptime," Torsten Barenthin said.
"Given the high-quality performance of the existing scrubbers, … we have chosen Yara Marine as our partner for scrubber installations on our two incoming capesize bulk carriers Alice Oldendorff and Austyn Oldendorff."
"We are very happy with Oldendorff Carrier's decision to install our U-type scrubbers on their new vessels, marking 98 vessels fitted with our scrubbers so far… We look forward to hitting the 100-vessel mark in the future and helping the Oldendorff fleet continue to improve its environmental performance," Aleksander Askeland commented.
Scrubbers offer a sustainable way for any existing fleet operating on heavy fuel oil (HFO) or a hybrid of very low sulphur fuel oil (VLSFO) and HFO to comply with global regulations on sulphur emissions. Many ship operators have also embraced scrubbers as a means to meet emissions targets and manage fuel costs, given the uncertainty of fuel prices and availability of low-sulphur fuels.
YMT's scrubber portfolio encompasses in-line scrubbers (I-type and L-type) and packed bed scrubbers (U-type), with open-loop, closed-loop and hybrid options.
As a strong advocate for a greener and cleaner future, YMT has expanded its portfolio over the past year to include vessel optimization solutions, wind-assisted propulsion, and turn-key shore power solutions.
Oldendorff Carriers operates some 750 bulk carriers. Over 95% of the company's own fleet and most of the chartered ships are ECO type.
In related news, also on 6 April, Oldendorff signed a letter of intent (LOI) with BHP, Rio Tinto, Star Bulk Carriers and the Global Maritime Forum, to jointly assess what is required to facilitate a viable green corridor on the Australia to East Asia iron ore trade route.
The group was brought together through their shared ambition and engagement in the Getting to Zero Coalition. The consortium partners each represent parts of the value chain and bring key perspectives into investigating commercial elements needed to decarbonise this trade route.
Follow Offshore Energy's Green Marine on social media: