Oldendorff trials biofuel in Singapore
German dry bulk operator Oldendorff Carriers has teamed up with BHP, and biofuels pioneer GoodFuels to carry out the first marine biofuel trial involving an ocean-going vessel bunkered in Singapore.
The vessel selected for the trial was Kira Oldendorff,one of the company's eco-Kamsarmaxes. The 2020-built 81,290 dwt dry bulk carrier was bunkered with "drop-in" advanced biofuel to be blended with conventional fossil fuels.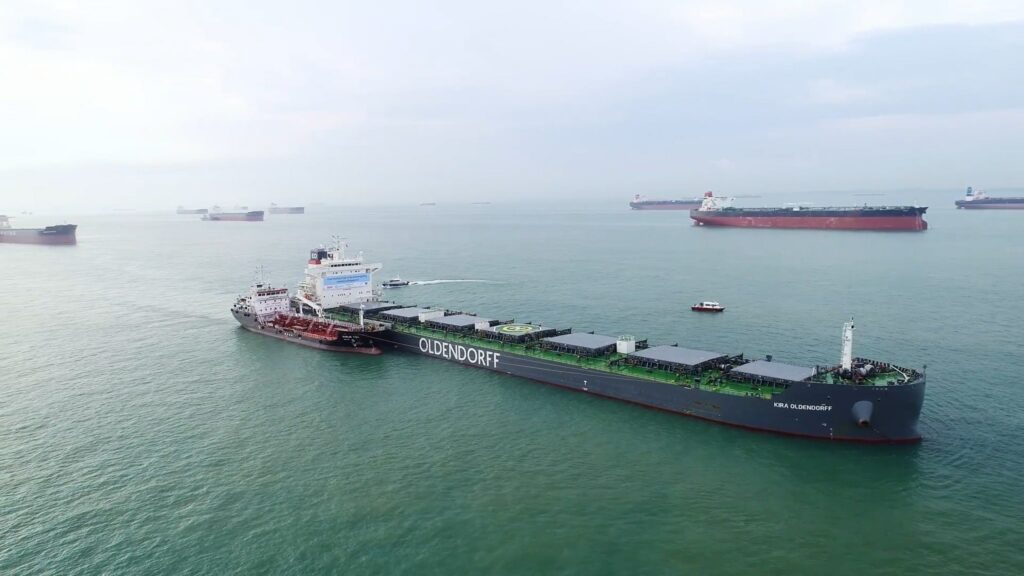 Oldendorff said that minor modifications were carried out to burn the biofuel blend efficiently, and monitoring instruments were installed to capture the trial data as accurately as possible.
The entire process was supported by the Maritime and Port Authority of Singapore (MPA).
The shipping major said that the key objectives of the biofuel bunkering trial include safety, understanding the behaviour of the fuel (such as emissions), assessing engine and vessel operational performance, while exploring the merits and challenges of biofuels as a marine fuel.
GoodFuels' second generation sustainable biofuels are produced from certified feedstock that is labelled a waste or residue.
The use of biofuels reduces CO2 emissions by up to 90% and eliminates Sulphur emissions, as explained by the biofuel producer.
"Oldendorff Carriers and BHP's views on a greener future are mutually aligned and being historically close partners, it made this trial a natural fit," Oldendorff Carriers Singapore's Managing Director, Alexander Vajsova-Jones, said.
"GF are leaders in biofuels and early movers in this segment and felt they were an excellent choice, while MPA are strong supporters of green initiatives and are always instrumental in supporting industry participants in the 'shipping capital of the world'."
Biofuels are gaining in popularity among ship owners as they are suitable for every type of vessel, without requiring any modifications to engine room equipment.
Several companies, including UECC, MSC, ONE, Norden, Jumbo and Van Oord are testing biofuels on their fleets as part of their sustainability strategies.
The most recent company to announce their uptake of biofuels is tanker operator Stolt Tankers.
Namely, the tanker owner has partnered with GoodFuels to trial the use of a marine biofuel produced from sustainable and certified feedstocks.
As informed, the trial will take place on board the 37,000 dwt chemical tanker Stolt Inspiration as it travels from Rotterdam, the Netherlands to Houston, the USA.