OMV clinches stake in ADNOC's offshore concession
Abu Dhabi National Oil Company (ADNOC) has awarded Austrian oil company OMV an interest in Abu Dhabi's SARB and Umm Lulu offshore concession for a fee of $1.5 billion.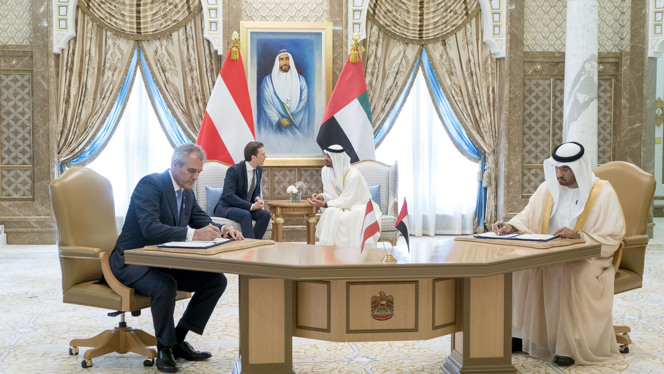 OMV previously said it had expected to acquire a 20% interest in ADNOC's two offshore oil fields.
On Sunday, April 29 Sheikh Mohamed bin Zayed Al Nahyan, Crown Prince of Abu Dhabi, and Deputy Supreme Commander of the United Arab Emirates Armed Forces, and Sebastian Kurz, Chancellor of Austria, witnessed the signing of an agreement awarding OMV a 20% stake in Abu Dhabi's SARB and Umm Lulu concession.
OMV is an Austrian integrated oil and gas company part-owned by a subsidiary of Abu Dhabi's Mubadala Investment Company.
OMV joins Spanish integrated oil and gas company Cepsa (20%), which is wholly owned by the Mubadala Investment Company, as a shareholder in the offshore concession.
OMV contributed a participation fee of AED 5.5 billion ($1.5 billion) to enter the concession, which also takes account of previous investments made by ADNOC in the SARB field. ADNOC retains a majority 60% stake in the offshore concession that will be operated by ADNOC Offshore, a subsidiary of ADNOC, on behalf of the concession partners.
The concession area comprises two producing fields, Umm Lulu, part of the former ADMA–OPCO offshore concession, and SARB. The ADMA-OPCO concession has been divided into three separate concessions in order to maximize commercial value, broaden ADNOC's partner base, expand technical expertise, and enable greater market access.
The agreement, which has a term of 40 years, effective from March 9, 2018, was signed by Dr Sultan Ahmed Al Jaber, ADNOC Group Chief Executive Officer and Dr Rainer Seele, Chief Executive Officer of OMV.
Dr Al Jaber said: "This long-term strategic agreement with OMV, as well as the other seven offshore concession agreements we have concluded recently, underscores ADNOC's commitment to maximizing value from Abu Dhabi's substantial resources for the benefit of the nation, in line with the leadership's directives.
"The expansion of the global economy and increasing demand for oil, refined products and petrochemicals, provide us with new opportunities to create value across our upstream and downstream business. To seize these opportunities, we will work closely with OMV, and our other partners to further optimize operational efficiencies, enhance performance, and capture future growth opportunities."
The agreement with OMV completes the round of offshore concession awards, which has seen ADNOC bring on board with many more partners who bring value to the table, in terms of market access, capital, technology and expertise. Collectively the offshore agreements, concluded since the start of the year, have contributed AED 29.1 billion ($7.92 billion) in participation fees and secured markets for 40% of the UAE's oil for the next 40 years.
OMV is already working with ADNOC on a number of other projects across the company's value chain, including appraisal of the Shuweihat sour gas field. In May, 2017, ADNOC and OMV also agreed to work together to explore potential opportunities in support of ADNOC's downstream businesses and the company's 2030 smart growth strategy.
Dr Seele said: "OMV is establishing a material position as an oil producer in the UAE and is delighted to further build on its existing partnership with ADNOC and Abu Dhabi. The offshore concession award is an important milestone in OMV's delivery on its 2025 strategy, as we expand our footprint in one of the world's leading oil and gas hubs. We are confident that our technological expertise will contribute to value creation and profitable growth, for all partners involved."
With group sales of EUR 20 billion (AED 90.48bn) and a workforce of 21,000 employees (2017), OMV is Austria's largest listed industrial company. In Upstream, OMV has a strong base in Romania and Austria and a balanced international portfolio, including the North Sea, the Middle East and Africa, and Russia as well as other core regions.
In 2017, OMV's daily production was approximately 348,000 boe. In Downstream, OMV operates three refineries with a total annual processing capacity of 17.8 million tonnes.
Under ADNOC's 2030 Strategy, crude production capacity is set to increase to 3.5 million bpd by the end of 2018.