ONE: Two Boxships Set Container Loading Records
In late December 2018, two ultra large container vessels (ULCVs) operated by Ocean Network Express (ONE) set container loading records in two consecutive weeks.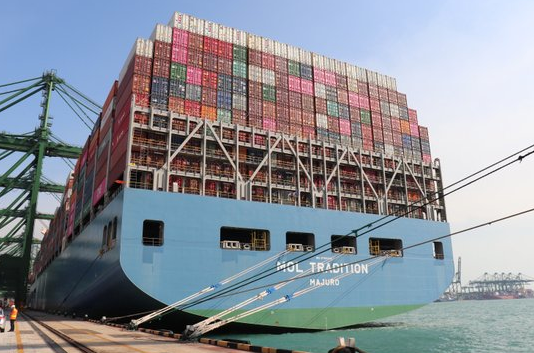 The 20,170 TEU boxships, MOL Trust and MOL Tradition, achieved records of 18,694 TEU and 18,767 TEU, respectively.
Two vessels operated by ONE, namely "MOL TRUST" and "MOL TRADITION", set a loading record of 18,694 TEU and 18,767 TEU respectively in two consecutive weeks!

Read more: https://t.co/dTodAaO3i7#OceanNetworkExpress #AsONEwecan #maritime #containerterminal #containershipping pic.twitter.com/pnLcecOhOe

— OceanNetworkExpress (@OceanNetworkExp) January 15, 2019
MOL Trust, which operates in ONE's Far East Loop 2 (FE2) service in THE Alliance, loaded the record number of containers on its Singapore westbound departure destined to North Europe on December 24, 2018.
In addition, MOL Tradition, which operates in the same FE2 service, renewed ONE's record on its Singapore westbound departure on December 29, 2018.
Each featuring a length of 400 meters and a width of 58.8 meters, the two vessels are the largest containerships in ONE fleet.
Built at Samsung Heavy Industries shipyard in South Korea in 2017, the 197,000 dwt ships fly the flag of the Marshall Islands.