Ophir: We know the clock is ticking on Fortuna FLNG. We continue to believe
Ophir Energy, a company that has been struggling to close financing for its Fortuna FLNG project off E. Guinea in the past few years, is well aware the clock is ticking.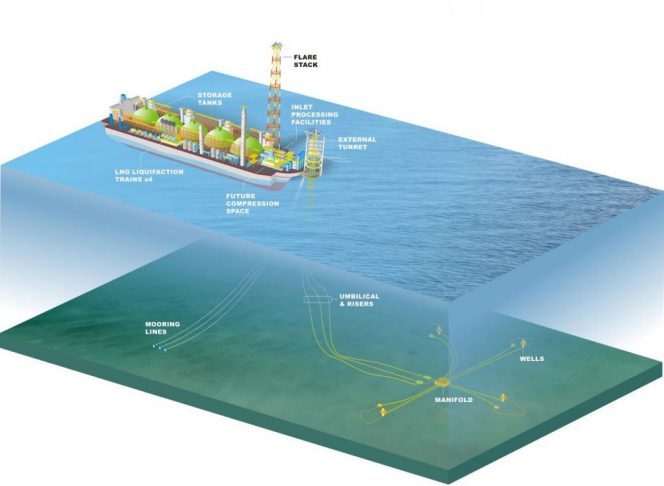 The company's interim CEO Alan Booth, appointed after CEO Nick Cooper stepped down in May, said on Thursday: "We are, of course, especially conscious that our Fortuna license expires at the end of this year; however, we remain determined to deliver value both to our shareholders and the government of Equatorial Guinea."
As reported a two months ago, E. Guinea authorities allegedly gave Ophir an ultimatum to either find financing by December and make a final investment decision for the long-stalled Fortuna FLNG project, or risk losing the acreage there.
The 3.7 Tcf project's FID had been initially expected in mid-2016 but was then postponed for the fourth quarter of 2016 only to be postponed again for the first half of 2017. In September 2017, Ophir aimed at 4Q 2017 FID.
However, amid slow progress with securing the finances for the project, Ophir in late November 2017, secured a twelve-month extension to the Block R license to the end of December 2018, pushing the FID to the first quarter of 2018.
Then, a recent presentation by Ophir set the expected FID for the second half of 2018, another delay. Total capital cost for the Fortuna development is expected to be $2.1b, with first gas slated for 2022, that is, in case Ophir manages to secure the financing and sanctions the project in 2018.
The project took another hit when oilfield services giant Schlumberger recently decided to exit from and dissolve OneLNG, its joint venture with Golar LNG created "to rapidly develop low cost gas reserves to LNG" amid delays in securing financing for the Ophir-operated Fortuna FLNG project
Ophir continues to believe
Ophir said on Thursday: "Throughout the first half of the year, we engaged in negotiations with potential lenders, but have not yet finalized a project finance solution for Fortuna FLNG. In May, OneLNG made the decision to dissolve itself. Although this decision was disappointing, we continue to believe that Fortuna is a high quality asset and, along with Golar, we are focused on trying to secure a new partner with the financial strength likely to be required to unlock the project financing."
The Block R license which contains the Fortuna gas discovery is due to expire at the end of 2018.
"As already mentioned, we are in active discussions to secure a partner and the status of the financing and timing of FID will become clear in the coming months. Depending on how these discussions progress, the carrying value of the Block R licence ($604 million as at 31 Dec 2017) may need to be reassessed as part of our interim reporting process," Ophir said in an update on Thursday.
Revenue for 1H 2018 is forecast at $102 million, with higher than forecast commodity prices, with Bualuang production realising $66.62/bbl and Kerendan gas $5.38/Mscf. Additionally, the Sinphuhorm field generated $1.8 million of net investment income (at an average gas price of $5.20/Mscf).
We are in active discussions to secure a partner and the status of the financing and timing of FID will become clear in the coming months.
The company has revised its capital expenditure for 1H 2018 at $47 million. Capital expenditure for the full year 2018, on a pro forma basis including the assets being acquired from Santos, is forecast at $145 million.
The revised capex forecast assumes the start of any Fortuna related spend will be deferred until 2019 but includes expenditure on Bualuang Charlie development and preparations for drilling in Block 5, Mexico.
Ophir said that, following the acquisition of Santos, year-end 2018 net debt forecast is revised to $135 million with year end gross liquidity (cash and undrawn debt facilities) remaining strong, even allowing for the acquisition of the Santos assets, expected to be $280 million. Capital expenditure has been reduced by $30m against previous guidance, predominately with the deferral of Fortuna spend to 2019.
Worth noting, Ophir is on the lookout for a new CEO.
Alan Booth said: "Our search for a new CEO is making good progress and a number of highly experienced and qualified external candidates have been identified.  The Board will of course provide further updates as and when appropriate."