ORLEN's Grażyna Gęsicka to deliver its first LNG cargo to Poland
The second gas carrier from the ORLEN Group's fleet has sailed from the US to Poland with a cargo of approximately 65,000 tons of liquefied natural gas (LNG).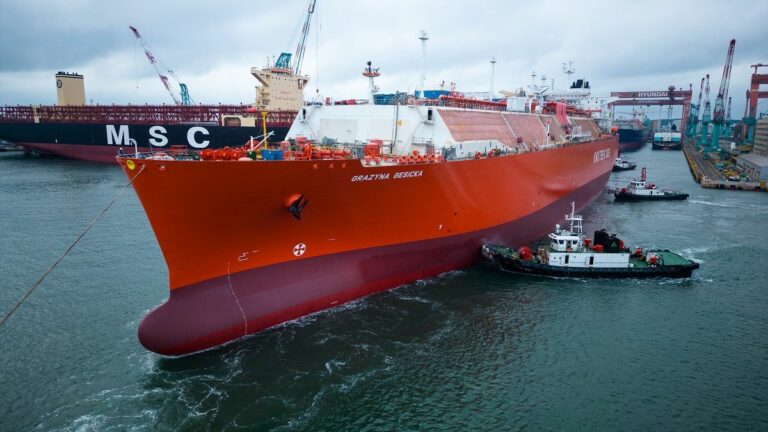 The carrier Grażyna Gęsicka, loaded at the Freeport terminal in the US, set off on 17 June for its first voyage, and is expected to reach Świnoujście in Poland in about two weeks.
It was constructed by South Korean shipbuilder Hyundai Heavy Industries and is chartered by ORLEN Group for a period of ten years with an extension option.
To note, ORLEN's fleet of gas carriers will consist of a total of eight vessels. The carrier Grażyna Gęsicka is its second vessel. The first, named Lech Kaczyński, has been on duty since February this year, and so far, it has delivered three LNG loads to Poland, with the last of them reaching Świnoujście on 8 June.
According to ORLEN, the size of the carriers has been chosen to ensure a sufficiently high load capacity, and at the same time the possibility of calling at almost all liquefaction and regasification terminals in the world.
The vessels are expected to be used both to service long-term contracts of the ORLEN Group for LNG deliveries from the US, and also to transport cargo purchased on the spot market.
ORLEN said the units are equipped with many solutions aimed at protecting the natural environment, including the gas reliquefaction system.
To remind, Knutsen LNG France, a part of Knutsen OAS Shipping, took delivery of Grazyna Gesicka in April this year.
Follow Offshore Energy's Clean Fuel: