Ørsted investigating cable routes, landfall sites for Skipjack export line
Ørsted will start surveying potential landfall locations in Delaware for the Skipjack Wind 1 export cable this month, according to the local media, which reports the developer will survey the seafloor and coastal terrain at three locations near Bethany Beach.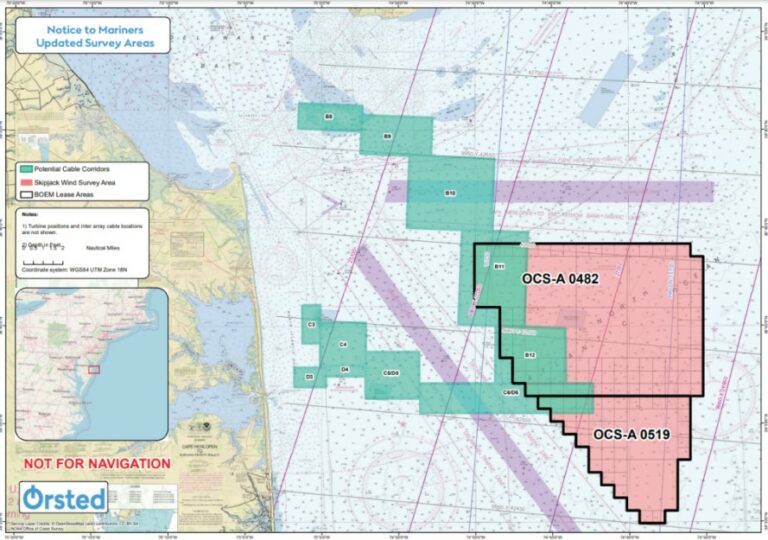 The developer will deploy three vessels for the work, including the jack-up vessel Trinity, according to Coastal Point, which quotes company representatives as saying that as of this month "Ørsted will continue its comprehensive evaluation of potential landfall and interconnection solutions in coastal areas in Delaware".
The sites where the surveys are set to start by the end of this month are to the west of the Skipjack 1 offshore wind farm.
On 17 February, the developer issued a Notice to Mariners informing about survey work being carried out at potential cable corridors, which are located to the northwest of the project site, offshore North Shores and near the Harbor of Refuge Lighthouse.
In the notice, Ørsted says that Skipjack Wind survey operations were initially scheduled to be completed by the end of July 2021, but were delayed through to January 2022. "Due to additional delays as a result of unforeseeable circumstances, operations will continue into February 2022", the developer said.
Located 19 miles (approximately 30 kilometers) off the Maryland-Delaware coast, the 120 MW Skipjack Wind Farm is planned to connect to an existing substation.
In 2020, Ørsted decided against constructing the interconnection facility for the Skipjack wind farm at Fenwick Island State Park in Sussex County, Delaware, for which it entered a non-binding agreement with the Delaware Department of Natural Resources and Environmental Control (DNREC) in 2019.
Skipjack 1 will feature GE Haliade-X 12 MW wind turbines, subject to final agreed and signed contract, and all required project approvals.