Pacific Drilling secures work for its drillships
Offshore drilling company Pacific Drilling has signed drillship contracts and extensions with Total, Chevron, and Eni.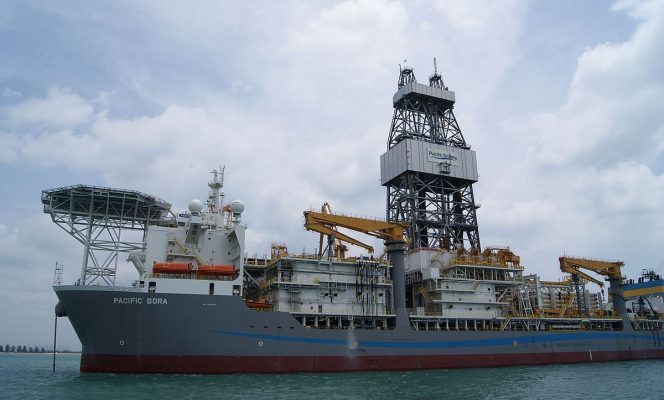 According to the drillship fleet operator, Chevron has decided to extend the contract for the Pacific Sharav drillship once the current five-year contract expires in August 2019.
The extension is for one firm well with and three additional option wells in the U.S. Gulf of Mexico, drillship has been operating since 2014 on for today's terms, a high dayrate of $551.000.
Pacific Drilling did not disclose the new dayrate under the extended two-month firm contract, but the Norwegian rig brokers Bassoe Offshore estimate the dayrate to be around $175,000.
Furthermore, Pacific Drilling has informed that France's Total has hired its 2011-built Pacific Santa Ana drillship.
The Pacific Santa Ana, currently undergoing client acceptance testing in Las Palmas, has received a contract to operate in Senegal for one firm well and in Mauritania for one option well with Total.
As with the Pacific Sharav contract, Pacific Drilling did not share the dayrate. Bassoe Analytics shows the estimated dayrate is around 165.000.
After this, the drillship will in July begin its contract with Petronas in Mauritania as the Malaysian company has recently exercised an option for Phase II of the plug and abandonment project.
Dayrate of $296.000 includes an integrated services package. The contract is expected to expire in June 2020.
The drillship operator also disclosed that it has two firm wells contract with Eni in Nigeria for the Pacific Bora drillship, with Eni having one option to extend. The firm contract, which started in November 2018 on a dayrate of 150.000 is set to expire in April 2019. The original contract was for one firm well with two option wells, meaning that, per the latest fleet status update, Eni has now exercised one of the previously available two optional wells.
Apart from the three drillships mentioned, Pacific Drilling has four more rigs without work all stacked in Las Palmas. These are the Pacific Mistral, Pacific Scirocco, Pacific Khamsin, and Pacific Meltem.
Offshore Energy Today Staff