Petrobras in Sergipe-Alagoas farm-out move
Brazilian oil company Petrobras is looking to farm-out parts of its ownership in four blocks located in the Deepwater Sergipe-Alagoas Basin, across an exploration area of 44,370 square kilometers .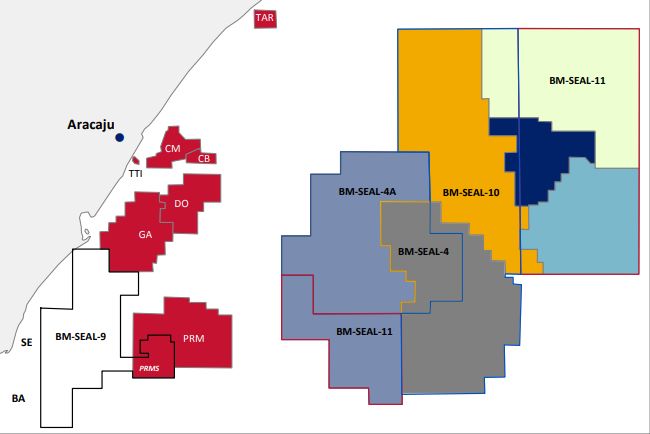 In a teaser shared on Thursday, Petrobras said it was offering the concession BM-Seal-4, in which Petrobras owns 75% stake and is offering 35% share to interested parties. India's ONGC owns a 25% share in this block.
Furthermore, in the concession BM-Seal-11, where Petrobras owns a 60 percent share, it is offering 20 percent to interested parties. Company IBV owns a 40% stake in this concession.
In the concessions BM-Seal-4A and BM-SEAL-10, Petrobras owns a 100 percent ownership, and is offering a 50 percent, and a 30 percent stake, respectively.
According to Petrobras, four concessions are currently under six separate evaluation plans to assess the optimal development approach for the discoveries.
Describing the acreage, Petrobras said it was a prolific petroleum system with an exceptional exploration success rate of 80%+ on average. According to the oil company, the assets have been de-risked with 26 wells drilled to-date and "a clear path to the Declaration of Commerciality and full scale development."
Also, Petrobras said the acreage offered "numerous low-risk prospects have been identified and provide significant inventory for long-term future production."
Petrobras is the operator of all these concessions in which, to date, there have been six discoveries of light oil and gas: Barra, Farfan, Muriú, Moita Bonita, Poço Verde and Cumbe. The expectation of Declaration of Commerciality is for the second semester of 2020, Petrobras said.
The plan for Petrobras it to start a non-binding phase, followed by a binding phase with interested parties, which would then be followed by exclusive negotiations, and signature of contracts.
The potential assignees must have experience in exploration and production in offshore blocks, as operator or non-operator, and be able to demonstrate the participation or prior participation in offshore upstream projects. Petorbras also said a prospective assignee must have at least US$ 1 billion of net assets. Petrobras has set a June 11 deadline for the expressions of interest.