Pioneering Spirit vessel to join Nord Stream 2 construction works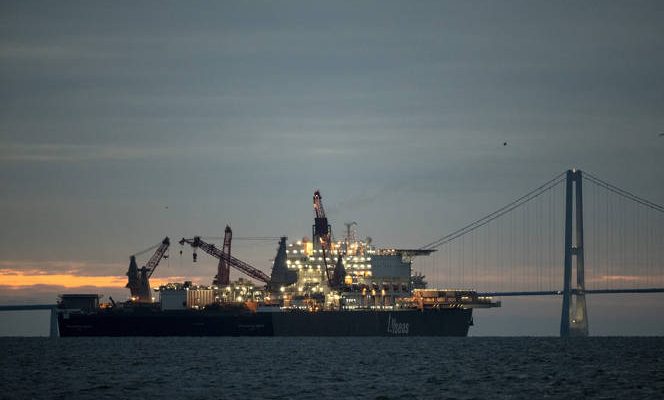 Allseas-owned pipelay vessel Pioneering Spirit is on its way to join the construction fleet of the Nord Stream 2 project. 
Nord Stream 2 AG, a Gazprom-owned company and the operator of the project, said on Wednesday that the Pioneering Spirit will enter the Baltic Sea via the Great Belt Bridge in Denmark to join the Nord Stream 2 construction fleet.
The vessel is due to start pipelay in the Finnish Exclusive Economic Zone (EEZ) in the coming week, the operator added.
Pioneering Spirit, operated by Allseas, is 382 meters long and 124 wide, hosting an international crew of 570 persons.
The vessel will be mobilized in Denmark for a few days, after which it will continue its journey to the Finnish EEZ to continue pipelay of the first line.
Another Allseas' vessel, the Solitaire, started the pipelay for the Nord Stream 2 natural gas pipeline in the Gulf of Finland in September 2018. In October, Allseas-owned pipelay vessel Audacia also began its work on the Nord Stream 2 project. Audacia was the second vessel, together with the Saipem-owned Castoro Dieci (C10), to lay the Nord Stream 2 pipeline in the German route section.
The Nord Stream 2 pipeline will transport natural gas from the world's largest reserves in Russia to the EU internal market.
The twin pipeline, which involves two parallel 48 inch lines, will travel through the Baltic Sea, starting from the coast of Russia and reaching landfall near Greifswald in Germany. It will run roughly parallel to the existing Nord Stream pipeline.
The project will have the capacity to transport up to 55 billion cubic meters of gas per year from Russia to Europe, connecting with pipelines within the European Union for onwards transmission.
Offshore Energy Today Staff
Related news
List of related news articles