Poland Getting New Shipping Channel
Poland's Maritime Office in Gdynia has signed an EUR 187 million (USD 205.4 million) contract for the development of a shipping channel through the Vistula Spit which separates the Vistula Lagoon from the Gdańsk Bay.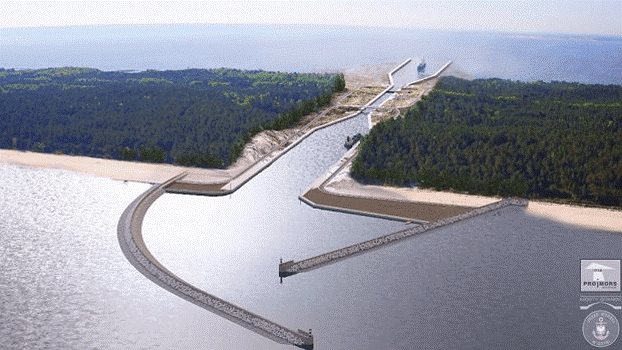 The joint venture Besix – NDI Group will be responsible for delivering the project that aims to ease the maritime traffic and boost Elblag's port installations by reducing the distance between the port and the Baltic sea and making it accessible to larger vessels.
The works include the construction of two breakwaters, a channel, two rotating bridges over the lock, four sluice gates, buildings, landscaping as well as the adjacent roads and the soil reinforcement of the roads embankments.
A 190-hectare artificial island within the Vistula Lagoon will also be developed.
The channel stretches over 1.5 kilometers with a width varying from 25 to 120 meters. Located outside the spit in the Gdańsk Bay, the two breakwaters have respective lengths of 1,014 and 568 meters and form a protective harbor.
Works are expected to start in 2019 and be completed in 2022.
"This is a very interesting project and its construction will be another hydroengineering undertaking that NDI will be completing in cooperation with BESIX. We have already built together the DCT2 container terminal at the Port of Gdansk and our cooperation was very good," Małgorzata Winiarek-Gajewska, CEO of NDI, commented.