Polish and Danish regulators ink Baltic Pipe MoU
Poland's Energy Regulatory Office (ERO) and the Danish Utility Regulator (DUR) have signed a Memorandum of Understanding (MoU) on joint activities for the Baltic Pipe project.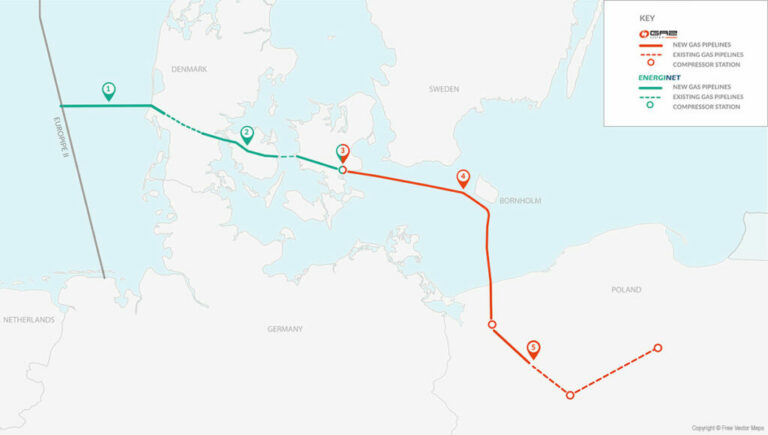 The parties agreed to exchange information on all circumstances and activities that may affect the proper implementation of European Union law with regard to the infrastructure of the Baltic Pipe project, among other things.
The focus will be on all kinds of administrative decisions or proceedings concerning both transmission operators, such as changes in concessions and permits, decisions granting certificates of independence, and so on.
"The signing of the Memorandum of Understanding will enable closer cooperation of regulators regarding the functioning of the project infrastructure, which must operate in accordance with European Union law," said Rafał Gawin, ERO president.
"We are pleased with the conclusion of the Memorandum. We perceive this as an important step in the functioning of the Baltic Pipe and setting a clear framework for further cooperation with our Polish colleagues," Carsten Smidt, head of the Danish regulator, stated.
The MoU comes as the Danish Energy Agency granted GAZ-SYSTEM exemption from the provisions of the Danish act on natural gas supplies back in November 2018, therefore it became necessary to set up the principles of cooperation between DUR and ERO to ensure the functioning of the project's infrastructure in accordance with EU law.
Baltic Pipe, the strategic project between Poland's GAZ-SYSTEM and the Danish Energinet, will create a new corridor supplying gas from Norway to the markets in Poland, Denmark, and neighboring countries.
The pipeline will be able to transmit 10 billion m3 of natural gas per year to Poland and 3 billion m3 from Poland to Denmark. The project is set to start operating on 1 October 2022.