Port of New York, New Jersey unveils net-zero roadmap
The Port Authority of New York and New Jersey has released the Net-Zero Roadmap, a comprehensive plan comprised of more than 40 actions intended to achieve both its near-term emission reduction goals and its 2050 goal of net-zero carbon emissions.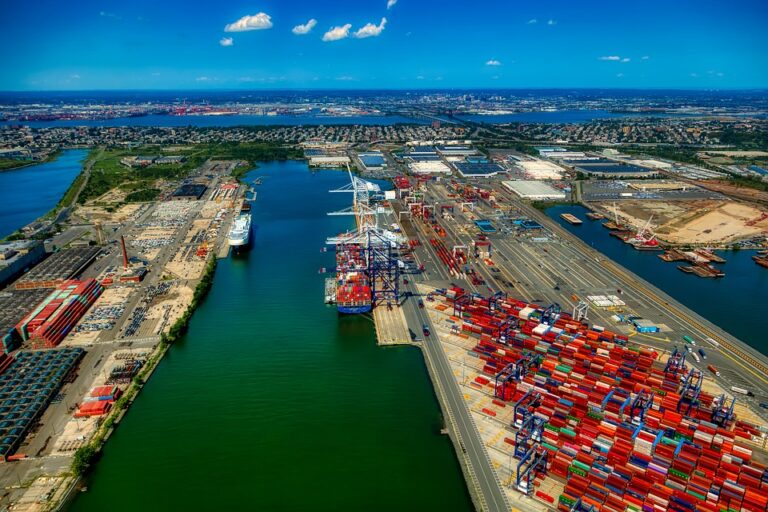 As informed, the roadmap to net-zero emissions formalizes the historic commitment the Port Authority made in 2021, the first U.S. transportation agency to issue such a pledge. In addition, it brings the port in line with the ambitious climate goals set by the Biden-Harris administration and the states of New York and New Jersey.
The agency also revealed that it is on track to meet its interim goals of a 35 percent reduction in direct emissions by 2025, and a 50 percent reduction by 2030, undertaking ambitious initiatives from increasingly larger solar power projects and low-carbon airport terminals
"New York isn't just joining the climate change fight – we're leading the charge on a global scale," said New York Gov. Kathy Hochul. "I commend the Port Authority's important commitment and visionary roadmap to reach net-zero greenhouse gas emissions by 2050. Together, we can be the catalyst inspiring cities, states, and nations to think bigger, act bolder, and spark monumental change to protect our people and the planet."
"The Port Authority's bold net-zero goal represents one crucial element of New Jersey's all-of-government approach to comprehensive climate action," said New Jersey Gov. Phil Murphy. 
"Through its sustainability strategy and alignment with New Jersey's vision for a clean energy future, the Port Authority will continue to help advance the Garden State's pursuit of a 100 percent clean-energy economy by 2035. This determined pursuit is especially urgent to safeguard our environmental justice communities from the intensifying impacts of the climate crisis."
"This comprehensive roadmap shows the Port Authority is meeting the gravity of the climate crisis with the urgency it deserves," said Port Authority Chairman Kevin O'Toole.
"Reducing our own greenhouse gas emissions is one thing. But this roadmap presents a much larger vision, helping to bring emissions down across the entire transportation landscape."
"Climate change is an existential threat to the planet and to our way of life," said Port Authority Executive Director Rick Cotton.
"To get to net zero requires out-of-the-ordinary measures and commitment. The Port Authority's road map to net zero seeks to lay out the needed way forward. The agency is committed to articulating the goal, describing the needed actions, and then tackling the implementation challenge. The road map to net zero will be the foundation of the agency's effort."
Net-zero actions
The port authority committed to tackling emissions generated by the agency's own activity. The roadmap outlines efforts to curtail the agency's direct carbon impact, including adopting electric vehicles and equipment, dramatically reducing the carbon footprint of new and existing buildings through energy efficiency and other initiatives, and maximizing on-site solar power.
To date, it has already reduced its direct emissions by over 20 percent through significant milestones such as:
streamlined process for renewable energy usage and maximized on-site solar installations, including a 5 MWdc solar array at Newark Liberty International Airport;
Light duty non-emergency vehicle fleet will be 50 percent electric by 2025 through vehicles already acquired or ordered by the agency, with a further target to make the entire fleet electric by 2028;
The port intends to make its buildings fossil fuel-free by 2050, beginning with a full decarbonization retrofit at Newark Liberty International Airport's historic Building One, to be completed by 2025;
89 of the 91 ship-to-shore and rail-mounted-gantry cranes currently in use at the Port of New York and New Jersey's marine terminals are fully electric. All are targeted to be electric by 2026 through the Port Authority's Marine Tariff program, incentivizing electric equipment conversion by seaport tenants.
The Port Authority has also worked with its partners to achieve their own climate goals. Partners, such as port tenants, airlines and others, have already reduced their emissions by 412,000 metric tons.
In the future, the port plans to expand solar energy installations and clean energy purchases and transition central power plants to net-zero emission systems.